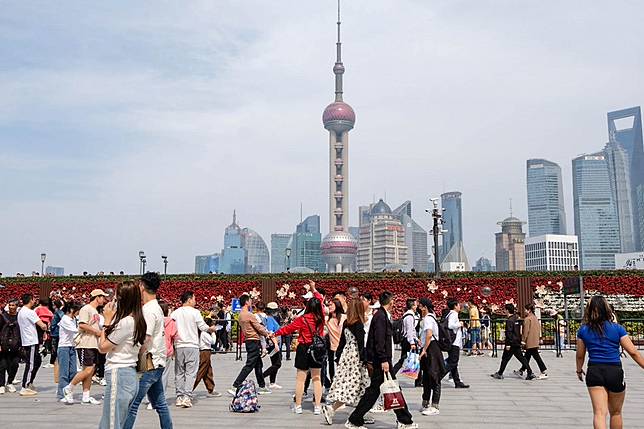 Tourists visit the Bund in east China's Shanghai on April 30, 2023. (Xinhua/Xin Mengchen)
SHANGHAI, June 6 (Xinhua) -- In 2022, the number of days with severe pollution or worse in the Yangtze River Delta region decreased by more than 50 percent year on year, and the regional air quality continued to improve, said the Shanghai Municipal Bureau of Ecology and Environment.
Since 2022, the ecology and environment departments of the Yangtze River Delta region, which includes Shanghai Municipality, Jiangsu Province, Zhejiang Province and Anhui Province in east China, have collaborated to release a weekly air quality forecast chart.
In 2022, the average concentration of PM2.5 in the region was 31 micrograms per cubic meter, which stably reached the level-II national standard of air quality.
"The ecology and environment departments of the region have significantly enhanced their forecasting and early warning capabilities for regional air pollution. Over the past year, they have successfully collaborated to accurately predict several instances of large-scale pollution in the Yangtze River Delta region, thus further enhancing the efficiency of joint prevention and control measures against air pollution," said Sheng Tao, from the Shanghai Municipal Bureau of Ecology and Environment. ■