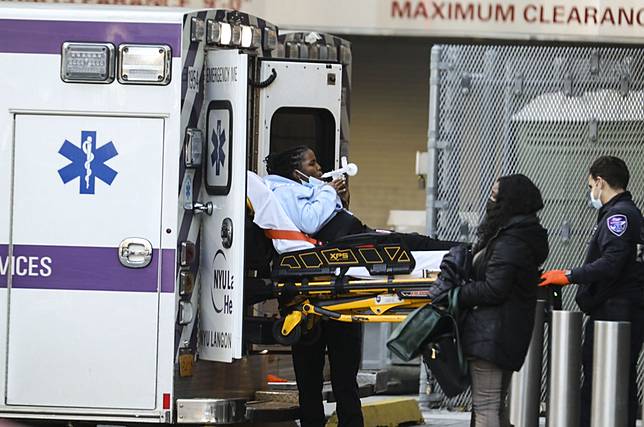 Medical workers carry a patient to a hospital in New York, the United States, Dec. 13, 2021. (Xinhua/Wang Ying)
Around 40 states have passed laws creating or increasing penalties for violence against health care workers.

NEW YORK, Aug. 10 (Xinhua) -- Attacks at medical facilities have helped make health care one of the United States' most violent fields, reported The Associated Press on Monday.
Data showed American health care workers now suffer more nonfatal injuries from workplace violence than workers in any other profession, including law enforcement, said the report.
Except for deadly shootings, U.S. "health care workers racked up 73 percent of all nonfatal workplace violence injuries in 2018, the most recent year for which figures are available," the report cited the U.S. Bureau of Labor Statistics.
"Health care workers don't even think about that when they decide they want to be a nurse or a doctor. But as far as actual violence goes, statistically, health care is four or five times more dangerous than any other profession," Michael D'Angelo, a former police officer who focuses on health care and workplace violence as a security consultant in Florida, was quoted as saying.
Around 40 states have passed laws creating or increasing penalties for violence against health care workers, according to the American Nurses Association. Hospitals have armed security officers with batons, stun guns or handguns, while some states, including Indiana, Ohio and Georgia, allow hospitals to create their own police forces. ■