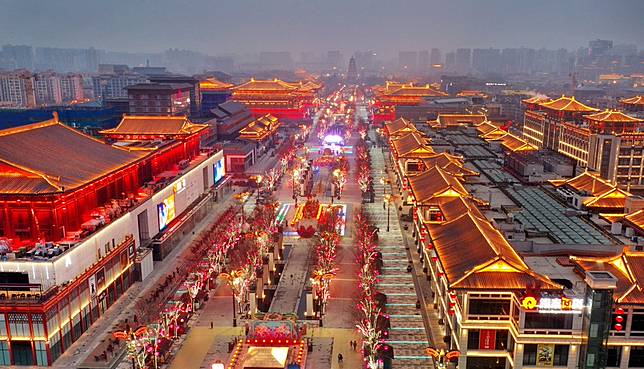 Aerial photo taken on Jan. 21, 2022 shows a night view of the Datang Everbright City scenic area in Xi'an, northwest China's Shaanxi Province. (Xinhua/Tao Ming)
HEFEI, July 8 (Xinhua) -- Huajie, or flower street in English, is named after the lanterns that lit up the streets at night in ancient times. It was a busy street with lively nightlife hundreds of years ago, and today's booming night economy in China has injected even more vitality into Huajie.
"I used to think Huajie was just a commercial street with ancient buildings, but it is so much more than that," said Yu Jiayun, a 20-year-old college student in Wuhu, east China's Anhui Province.
Yu visited the ancient street for the first time at the end of June. She was happily surprised by what the street had to offer, especially when she stumbled across a music festival organized by the Wuhu ancient town, a popular tourist site that counts Huajie among its attractions.
"With its beautiful lanterns, art galleries, and stores that exhibit intangible cultural heritage, it's the perfect place to hang out with friends after dinner," Yu said.
Wearing hanfu, the traditional clothing of the Han ethnic group, is among the most popular things to do on Huajie, according to China's travel websites. Other popular activities include taking photos under the lanterns, eating shrimp roe noodles in a time-honored restaurant, and buying traditional Chinese sugar paintings.
When summer approaches, the night economy begins to heat up in China, making ancient cities and towns popular destinations for tourists as they integrate sightseeing, traditional cultural elements and the hustle and bustle of city life.
As dusk falls, tourists gather in the Yongquan tourism resort in Tongling, buying specialties with ancient Chinese copper coins. "It was like we were traveling back in time. My child found this experience very novel and interesting," said Chang Pengfei, a local who took his family to the resort after work.
"Chinese consumers are becoming more and more fond of spending on things related to cultural heritage, such as traditional snacks and handicrafts that remind them of childhood, and visiting antique buildings that take them back to ancient times," said Xu Fagen, general manager of the resort.
China's policies have recently focused on the recovery of the tourism industry to stimulate consumption and stabilize the economy while effectively controlling COVID-19. Since June, many parts of China have proposed policies to stimulate night tourism.
Since the end of June, Anhui Province has issued nearly 190 million yuan (about 28 million U.S. dollars) in coupons for businesses in industries such as tourism. It has pledged to increase subsidies for night consumption.
In June this year, as the provincial capital of northwest China's Shaanxi Province, Xi'an, a city founded some 3,100 years ago, also launched night activities, recommending 14 night tour routes for its residents.
"The Wuhu municipal government has issued several batches of coupons this year. We can feel that business has improved significantly, and the number of tourists has also increased," said Wu Yubin, manager of the planning department of the Wuhu ancient town's operating company.
The vigorous development of the night economy in China has played a significant role in stimulating the culture and tourism industry. According to the Wuhu company, customer traffic once affected by the epidemic has gradually recovered since the Labor Day holiday this year, increasing nearly 10 percent every week. Over 400,000 tourists visited the ancient town in June.
"With night food festivals, bonfire parties and other night activities, many tour groups extend their original one-day itineraries to two days, which means tourists can stay longer to drive up consumption," Xu said.
The Ministry of Culture and Tourism on June 29 said that the country should seize the opportunity presented by the summer peak tourist season and focus on the development of its night culture and tourism.
Data from the ministry shows that in the first quarter of 2022, the total domestic tourism revenue in China hit 770 billion yuan, an increase of 4 percent over the same period last year. ■