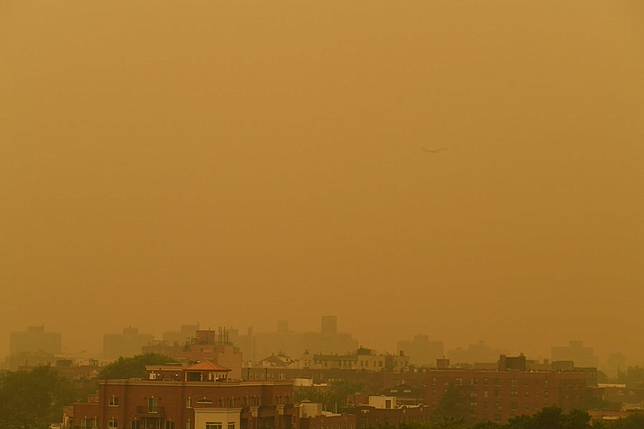 An airplane flies over New York, the United States, on June 7, 2023. (Xinhua/Li Rui)
According to the U.S. National Weather Service, rampant wildfires in the Canadian province of Quebec brought widespread haze and smoke to the Northeast and Great Lakes areas of the United States.

NEW YORK, June 7 (Xinhua) -- Central and eastern areas of New York state will come under an air quality health advisory on Wednesday as air quality worsens amid wildfires in Canada, according to the New York state government.
Levels of pollution, either ozone or fine particulate matter, are expected to exceed an air quality index (AQI) value of 100, said the state's government.
The New York City government is urging residents to limit their outdoor activities to only what is absolutely necessary, especially if they have heart or breathing problems, according to a post on social media.
According to the U.S. National Weather Service, rampant wildfires in the Canadian province of Quebec brought widespread haze and smoke to the Northeast and Great Lakes areas of the United States. ■