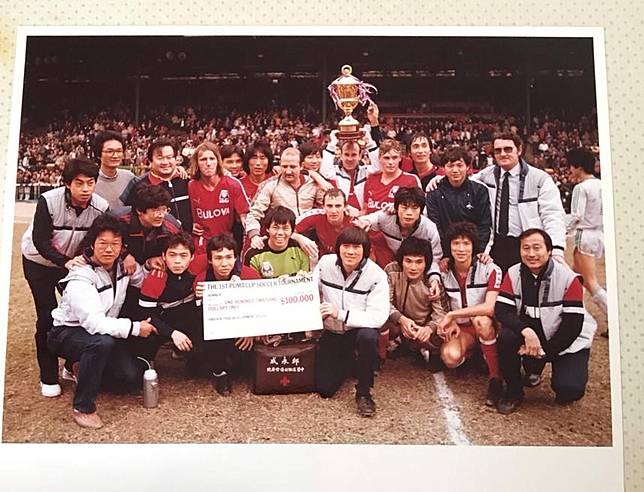 After almost four decades, former Bulova manager Tony Tse still rates Tommy Hutchison the best foreign player he has ever signed.
"We won two trophies every season and it was done for three consecutive years when I was the team manager," said Tse, who still cherishes his spell in charge from 1981 to 1984, when the club was withdrawn from the league. "We signed Hutchison in the second half of my first season, when the team had little hope in the league but were still in contention for the cup tournaments.
"People thought he was ready for retirement when he came to Hong Kong and despite his age, his work rate and his attitude towards the games and fellow players were second to none. His skills, his speed surprised a lot of people. He was just wonderful, lifting the whole team up and making a tremendous contribution to Bulova."
Hutchison came to Hong Kong on loan from Manchester City at the age of 34 in early 1982, in a golden era for the sport in the city. The ex-Scottish international helped Bulova capture the FA Cup and the Viceroy Cup in his first few months in Hong Kong, and after he decided to extend his stay for another season, he helped the club add the same two pieces of silverware to the mantelpiece.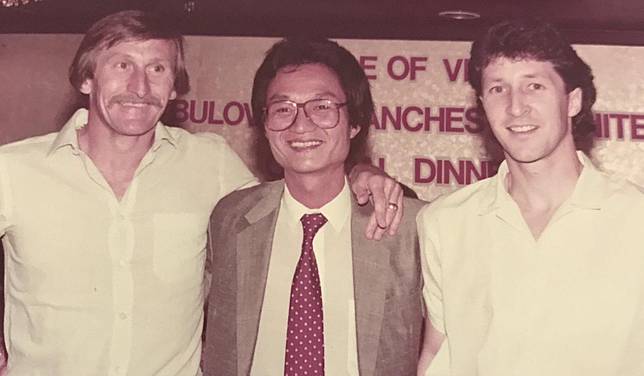 Such successful overseas signings have not always been the case.
Tse, now 69, remembers he terminated the contract of the tempestuous Charlie George three months after the former Arsenal and England international arrived for the 1981 season.
"He could not blend in with the team, never worked well with the other players," Tse said. "He was powerful inside the box, but unfortunately he always claimed he had injuries. When he completed his three-month trial after playing three games for us, we decided to let him go.
"Even the club owner questioned the decision because George was such a big name, especially in a place like Hong Kong where everybody knows how good he was when he was playing in England. But we needed discipline or the team would never have delivered on the pitch."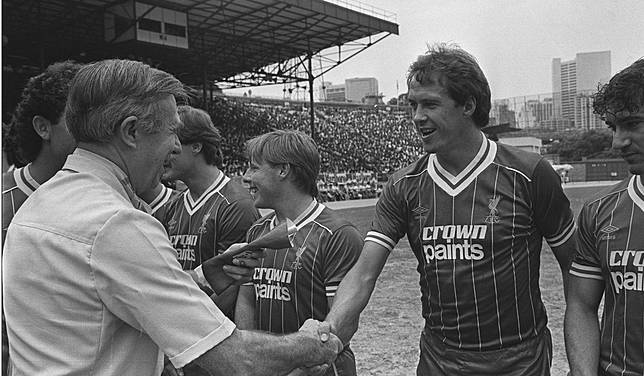 Despite his success in those three seasons, Tse had little football club management experience before he was invited by Bulova chairman Wong Chong-po to take the job in the summer of 1981.
Bulova boss Wong and his family were all football nuts, Tse recalled. After helping set up Seiko as a football club in the early 1970s - the Wong family held the sole agency for the Japanese watch brand in Hong Kong - Wong bought a majority shareholding in Bulova, a US watch brand. They started in the Third Division, rising b to the top flight three seasons later, but life was not easy in the beginning.
"I was working as a sports reporter at a local English newspaper and knew the soccer scene well. When Bulova finished their first two seasons in the First Division without a trophy, club owner Wong reckoned it was time to change," said Tse.
"Bulova was a commercially sponsored club, just like another heavyweight, Seiko, run by Wong's younger brother Chong-shan. They needed results like those of Seiko."
Seiko were widely considered the most successful club in the 1970s to mid-1980s until they were disbanded in 1986. In their 14 seasons in the top flight, with the help of top-class overseas players and local contingent headed by Wu Kwok-hung, Seiko captured nine league championships and were runners-up on three occasions. They also won more than 20 trophies in the three major cup competitions, the Senior Shield, FA Cup and Viceroy Cup.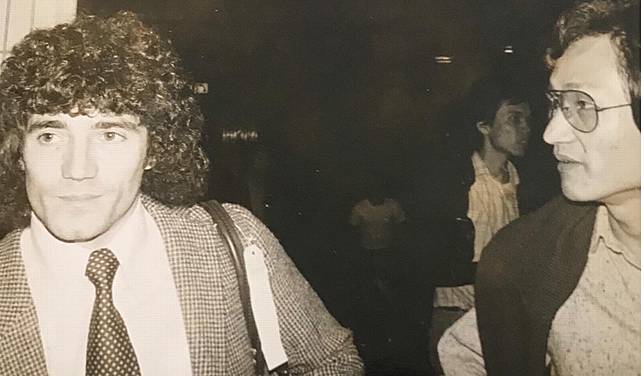 "Although the two clubs were run by two brothers, the clashes between Seiko and Bulova were always the top attraction in those days. We both wanted to be number one," said Tse. "Back in those days, some teams with close associations did not give their all when facing each other, but that never happened with us."
Tse said one of the conditions for him to accept Bulova's offer was to get overseas coaches and secure quality overseas players. Ron Wylie, who was once the assistant manager of English First Division side Coventry City, came to Hong Kong to work with Tse in 1981. The Scot stayed one season, helping Bulova capture their first two cup trophies before returning to England as the manager of West Bromwich Albion.
Englishman Geoff Vowden, who had coached in Saudi Arabia, succeeded Wylie for the two remaining seasons before the club's decision to call it a day in 1984.
Other than Hutchison and George, Derek Parlane, another ex-Scottish international, was also came over on loan from Leeds United to Bulova in 1982, along with Hutchison's Coventry City teammate Barry Powell. Goalkeeper Barry Daines, deputy to Pat Jennings at Tottenham, stayed for two seasons under Tse. Mel Blyth, who won the FA Cup with Southampton in 1976, also came in 1981.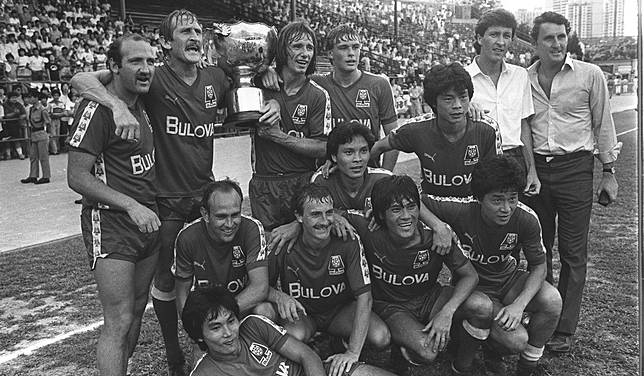 "Hong Kong soccer turned professional in 1969 but it was not until the later days when Seiko, followed by Bulova, came to secure top-class overseas players that it began flourishing. Other clubs such as South China, Eastern, Sea Bee, Rangers, Tung Sing and Happy Valley followed suit," said Tse. "But both Seiko and Bulova had strong commercial backing and could afford to splash out on players which the fans loved to watch.
"In fact, it was easy for us to pull in good crowds to the stadium. If we faced strong rivals, we wouldn't be happy with an attendance of under 20,000 and it was always full house in cup finals with a 28,000 crowd at the old Hong Kong Stadium."
Tse would not go into detail on the salaries of these overseas players. "They were not that expensive back in those days. Some youth players from England joined us at a weekly salary of under 100 pounds, which is already more than double what they earned back home. After all, they gained playing experience in Hong Kong before returning home for an improved contract if they were good enough," he said.
"And the budget was manageable. A big club like Seiko, who once brought a whole bunch of Dutch internationals to Hong Kong, would not spend more than HK$3 million a season, while a top-class overseas player would be getting around HK$30,000 a month. A one-million-dollar season budget club would be able to mount serious title challenges."
After capturing the club's first two titles under Tse in 1982, Bulova successfully the same two trophies, the FA Cup and Viceroy Cup, the following year and won the Senior Shield and Puma Cup before they were dissolved in the summer of 1984. They challenged strongly for the league championship in their last two seasons, but fell just short.
At the end of the 1982-83 season, Bulova finished one point behind champions Seiko after they were held to a frustrating goalless draw in their last league game by Sea Bee, who came fifth that season. They met Seiko four times that season and won all encounters between the two without conceding a goal.
The next season was even closer as both teams finished with 25 points to top the table. Seiko once again prevailed with an overall better goal difference to lift their sixth back-to-back league championship in 1984 before capturing the last of their seven in a row the following season. Seiko pulled out of the league in the summer of 1986.
"There was still something missing in our mix. We lacked the maturity to capture the league trophy, which is a long journey lasting 10 months," said Tse. "Seiko had been there since they captured their first league title in 1972, two years after they started in the Third Division.
"But as a latecomer, we did so well in the cup tournaments in such a short period of time, something the team was all proud of."
After knowing the HKFA would start cutting the number of foreign players to three from the 1984-85 season until no foreign players would be allowed to play in Hong Kong, Bulova, who heavily relied on overseas legions for results, decided to call it a day, having first entered the Third Division in 1977.
"We all felt sorry about the club's decision," he said. "But there was little we could do. There were too many reasons behind the FA's decision to revise its foreign player policy, political reasons, personal reasons, power struggles, but in the end Hong Kong football suffered, especially in the late 1980s when only local players were allowed in the competitions.
"Bulova were once riding on the right track and were ready for more successes but were stopped blatantly. Looking back, it was something really difficult to swallow but after so many years, they have all gone with the winds, just like a dream."
Tony Tse's book, The Joy of Hong Kong Soccer, will be published in October.
Copyright (c) 2019. South China Morning Post Publishers Ltd. All rights reserved.