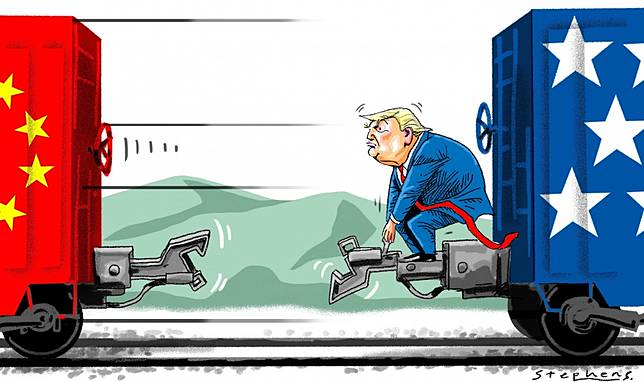 China's former commerce minister has issued a strong rebuff against "unthinkable" suggestions that the world's two largest economies could disengage from each other due to the ongoing tensions caused by the trade war, with Chen Deming saying: "To hell with decoupling!"
The United States and China have found themselves linked for the past 40 years, but with the 18-month trade war having led to the straining of the relationship, suggestions have been made that a technological decoupling could happen.
"Is globalisation falling into 'hemispherisation' or is the whole process halted? Whoever insists on decoupling …. will fall behind and even be phased out in the advancement of science and technology. To hell with decoupling!" said Chen, who headed the Ministry of Commerce in Beijing from 2007 to 2013.
His speech underscored Beijing's concerns about losing its connection with the US as the costly trade war, launched by US President Donald Trump in July 2018, chips away at a bilateral relationship also frayed by a rising rivalry over technology, geopolitics and ideology.
Whoever insists on decoupling …. will fall behind and even be phased out in the advancement of science and technology. To hell with decouplingChen Deming
While Chen believes a complete US-China disengagement is unthinkable, some analysts speaking at China Conference USA: Competition or Cooperation? on Tuesday, the first event hosted by the South China Morning Post in New York, said a "decoupling" was already under way.
Wendy Cutler, a former diplomat and negotiator for the Office of the US Trade Representative under president Barack Obama who is now vice-president and managing director of the Asia Society Policy Institute in Washington, said that decoupling "is happening now", particularly where national security is a concern, although the extent of the separation so far is unclear.
Chen's comments also came five days ahead of a December 15 deadline for Washington to raise tariffs on US$156 billion of Chinese products, with the move expected to significantly escalate trade tensions between the two countries, if it goes ahead.
It is growing increasingly unlikely that a US-China trade deal will be completed this week, although the tariffs are not expected to be implemented as both sides seek to de-escalate the trade war.
Chen feels that it is still possible for China and the US to reach a "phase-one" trade agreement as originally announced by Trump on October 11. However, he ridiculed the rationale behind the launch of the trade war, saying the Trump administration was wrong to frame the narrative as being about China taking advantage of the US because of its trade deficit.
According to Chen, the US constantly reports a deficit in its trade account to maintain the US dollar's role as a global reserve currency, which includes providing US dollars to other countries that have adopted it as their own.
"When China gets the US dollar, China will again invest the dollars back into the US or buy US Treasuries … isn't such a deal a good one?" he asked, with China continuing to to be one of the world's largest holders of US debt, slipping from first to second behind Japan in June.
Chen said China was left with no choice but to hit back when the US started the tariff war, and its measures will hurt the US economy. For example, he said, China's additional tariffs on US cars imposed last year have caused US car brands to lose orders to their German and Japanese rivals, and could translate into a loss of as many as 50,000 to 80,000 US jobs by the end of the trade war, according to Chen's calculations.
China is the second largest market for US new passenger vehicles and light trucks, after Canada. In 2018, the US exported US$5.19 billion worth of cars to China, down from the peak of US$9.9 billion in 2014.
At the same time, Chen, one of a group of Chinese technocrats who helped the country transform from an economic backwater into a global powerhouse, said China has no intention of challenging America's global role.
"The priority of the Chinese government is to put its own house in good order and there's no agenda to compete against the US for becoming the number one," he said.
The priority of the Chinese government is to put its own house in good order and there's no agenda to compete against the US for becoming the number oneChen Deming
He made light of the US government labelling China an economic competitor, saying China is still a developing country in terms of its per capita economic output.
"Some US friends are worrying about China's rise, saying something like 'China's (gross domestic product) is already over 65 per cent of that of US'," Chen said. "But if you look at the per capita indicators, China still ranks around 70 in its best indicator and is generally 100th in most per capita indicators."
However, Chen said it was unrealistic to expect manufacturing jobs that had left the US for countries offering cheap labour to return, since the American economy has been restructured around services.
He said electronics maker Foxconn had tried to set up a factory in Wisconsin and attempted to recruit thousands of workers, but hiring fell behind schedule because of an insufficient supply of skilled labour.
Chen added that the US should work with other countries to uphold multilateralism, expressing Beijing's unhappiness about what he characterised as the dysfunction of the World Trade Organisation (WTO).
"It is a foolish and impractical idea to reinvent the wheel or to destroy the WTO," Chen said. "The only way out is to sit down for consultation.
"(The US) should take its responsibility for adhering to and modifying the rules."
Copyright (c) 2019. South China Morning Post Publishers Ltd. All rights reserved.