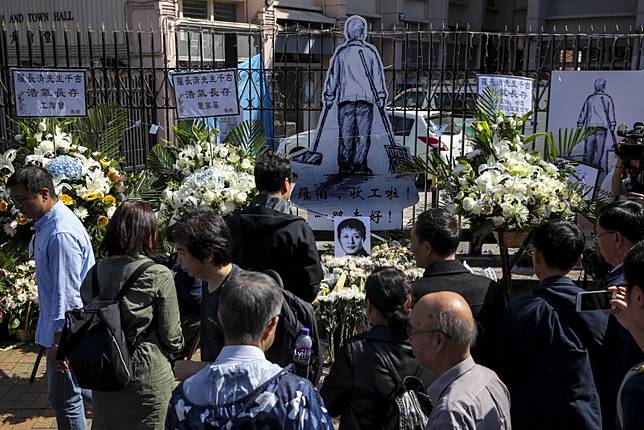 The son of the 70-year-old man who died last week after being hit by a brick in clashes between anti-government protesters and their opponents has said he hopes his father's death will help bring an end to months of rancour in the city.
Government-contracted cleaner Luo Changqing died in hospital on November 15 after sustaining injuries during the clash in Sheung Shui the day before.
"I hope that what happened to my father won't mark the beginning of more ugliness in Hong Kong, but the end of the city's plight," said his elder son as about 20 friends and family members mourned on Friday at the site of the incident in the northern border town, just before midday.
It was the first time the family had addressed the media publicly since Luo's death. They previously chose to remain anonymous, citing safety concerns.
He was the eldest son in the family and a righteous person. Whether at home or outside, he was always willing to help and serve othersLuo Changqing's younger brother
"I was notified of what happened to my father at noon that day. We rushed to Hong Kong from mainland China as soon as possible. To ensure our safety, the police escorted us to Prince of Wales Hospital. My father was already unconscious when I arrived," the son said.
"My heart is filled with pain."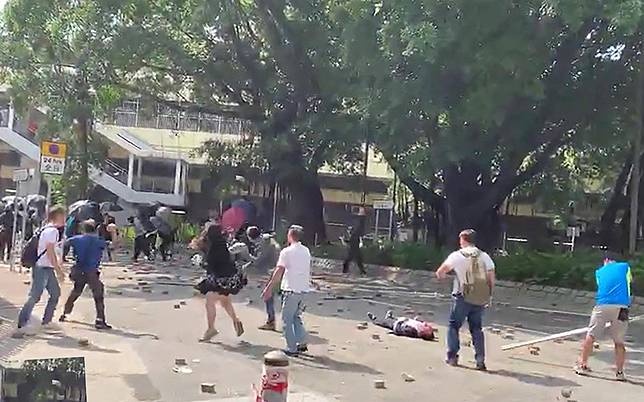 As he laid flowers where his father was dealt the fatal blow, near North District Town Hall, he said: "Father, I have come to Hong Kong. Rest in peace. You never said your last words to me. When I got to the hospital you didn't say a word."
Luo's younger brother said: "He was the eldest son in the family and a righteous person. Whether at home or outside, he was always willing to help and serve others."
In a video circulated online, Luo was shown being hit on the head by a brick during a clash between protesters and Sheung Shui residents. Police said he was filming the fracas with his mobile phone.
"My father filmed the scene out of his love for the city. Some people say we should mind our own business, but I knew my father. He wanted to protect the city," his younger son said.
He said he hoped police would solve the case quickly, and that his father's actions would have a positive effect on Hong Kong society. Luo's relatives said his body would be buried in mainland China, on a family plot.
Police alleged last Friday that Luo was "maliciously" killed by a black-clad person in a mask, and the case was being treated as murder.
Senior Superintendent Chan Tin-chu said the attack happened at around noon as a group of residents tried to clear bricks from the roads. They clashed and fought with a group of 20 wearing masks.
Luo was believed to have been taking his lunch break nearby, just 300 metres from his workplace. When the brick hit him, the cleaner immediately fell to the ground unconscious, while the fight carried on. The protesters left and Luo was taken to hospital.
A hospital source said he never regained consciousness while in the neurosurgery high-dependency unit.
Copyright (c) 2019. South China Morning Post Publishers Ltd. All rights reserved.