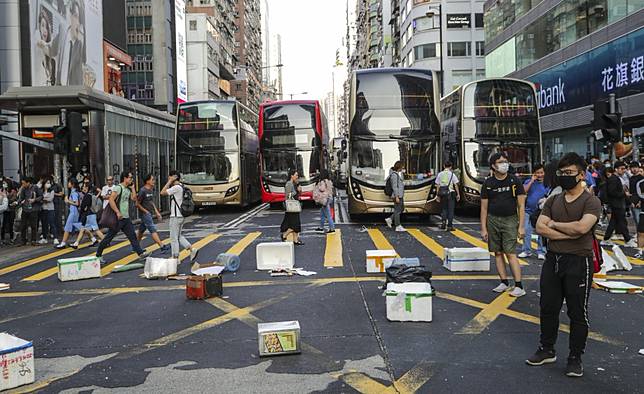 Hong Kong's protesters vowed to keep up their new strategy of weekday escalation of violence, after causing widespread traffic disruption on Monday that brought the city to a partial standstill by forcing shop closures and curtailing the working day for many residents.
Political scientists said the latest actions " though probably unsustainable " had dealt a bigger blow to the city than the usual weekend violence, which Hongkongers had already adapted to as the anti-government unrest entered its sixth month.
In what they dubbed as Operation Dawn, the radicals called on each other to disrupt traffic all over the city in small groups at 7am, to force a citywide strike.
To ensure minimal time for police to plan ahead, they only announced the list of gathering spots an hour in advance, through encrypted messaging channel Telegram, calling on others to block roads once they could form a group of 20.
Their actions paralysed road traffic and forced the gradual closure of 32 railway stations throughout the day.
On Reddit-like site LIHKG " the de facto virtual command centre of the movement " users were excited about the disruption they had brought and quickly planned a similar operation for Tuesday morning.
"We need to keep up the momentum and turn it into a new habit," one of the posts read. "A business hub will not be able to withstand such attacks on weekdays in the long term."
Chinese University political scientist Dr Ma Ngok said the Hong Kong government had been wary of any attempts at traffic disruption which would stop people getting to work, as "they had always wanted to present a business-as-usual picture to the world".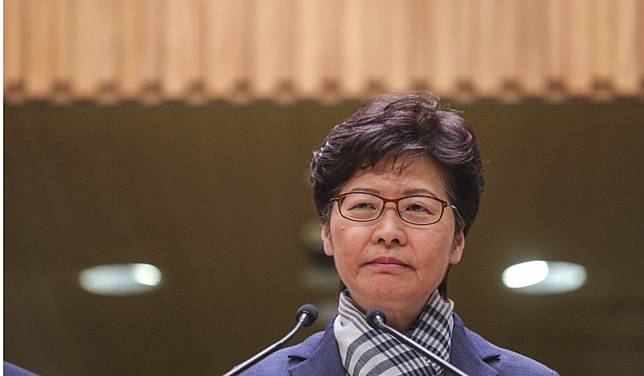 He cited the Airport Authority's earlier move to secure an injunction order after protesters choked the transport hub, one of the world's busiest.
"But unless the protesters can get civilians to cooperate and support them, such a strategy will hardly be sustainable," he said.
Ma believed a significant number of people who participated in Monday's protests were prompted to do so by the police's handling of protests in the early morning, when a traffic officer shot a 21-year-old student with a live round in Sai Wan Ho, leaving him in a critical condition, and another officer was seen ramming through a crowd of protesters on a motorbike.
Protesters have staged similar actions to trigger a de facto citywide strike in recent months. But the tactics they adopted on Monday were markedly more aggressive and violent.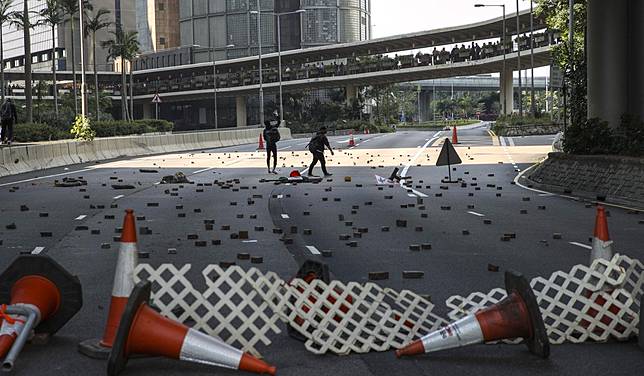 In contrast to their past actions " for instance slowing railway services by blocking carriage doors or hitting emergency stop buttons " this time they scattered bricks over major thoroughfares, hurled objects onto train tracks and splashed buses with paint. In one incident, a protester was seen setting alight a middle-aged worker they had quarrelled with earlier.
City University political scientist Dr Edmund Cheng Wai said the protests had entered a new chapter as both the protesters and police officers had stepped up the use of force.
He said the usual feedback mechanisms through which protesters evaluated a tactic's efficacy and effect on public opinion, often restraining the violence of frontline protesters, were having a diminishing effect.
"The police, on the other hand, have also clearly changed their strategy from crowd control to mass arrests," Cheng added.
Monday's clashes came after Chief Executive Carrie Lam Cheng Yuet-ngor's meeting with President Xi Jinping, who lent Lam his full support while signalling that her government must quell the unrest.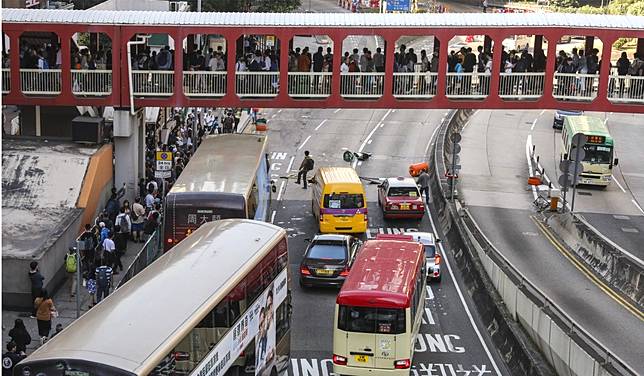 It also came just two weeks before district council elections, which many fear could be postponed if the violence persists.
Cheng warned that the cancellation of the polls could be counterproductive as it was actually a chance to ease tensions.
Lau Siu-kai, vice-president of the semi-official think tank the Chinese Association of Hong Kong and Macau Studies, said the protesters' moves would only prompt more suppression from the authorities while costing them support in wider society.
Lam said on Monday it would be "wishful thinking" for any protester to expect the government would yield to their demands in the face of violence.
"They might deal a further blow to the credibility of the city's governance, but will not force the government to back down," Lau said.
Copyright (c) 2019. South China Morning Post Publishers Ltd. All rights reserved.