China's economic slowdown may have already worked its way into the nation's most favoured stock.
Kweichow Moutai, the world's most valuable liquor maker, disappointed traders with its third-quarter results on Wednesday, with earnings growth slowing for a third straight quarter. The 17.1 per cent increase in net income was also the smallest in a year.
While shares of Kweichow Moutai have been on a roll this year, rising nearly 100 per cent, there has been debate that demand for the upscale alcohol is not totally real, but has to some extent been stoked by speculative hoarding.
Prices of its flagship product, Feitian Mao-tai, fell last month amid speculation that some dealers had dumped some of their liquor hoard.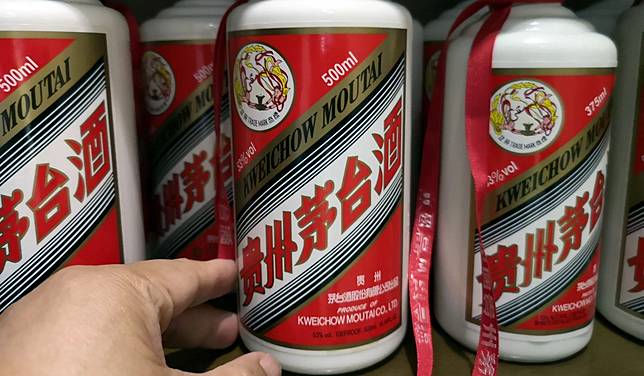 Kweichow Moutai slipped 3.4 per cent from a record high to 1,170 yuan (US$165) on Wednesday in Shanghai, capping the steepest loss in five weeks.
"It is difficult to keep such an extraordinary level of growth for a company the size of Moutai," said Gerry Alfonso, director of international business at Shenwan Hongyuan Group, in Shanghai. "The slowdown in the global economy and the ongoing trade dispute are also factors. Nevertheless, it is normal to see some slowdown considering the macro situation as well as ferocious competition in the sector."
The National Bureau of Statistics is expected to release data on China's third-quarter economic growth on Friday. Expansion in the world's second-largest economy may have moderated to 6.1 per cent, the weakest quarterly pace since at least 1992, according to an estimate of analysts polled by Bloomberg.
Still, some analysts have continued to raise the price target of Kweichow Moutai on the back of the earnings, arguing slowing earnings growth was a result of an overhaul of the sales network rather than dwindling demand.
China International Capital Corp has made the most bullish call among brokerages, setting a share price estimate of 1,462 yuan for the stock, Bloomberg data showed. Citic Securities raised its price target by 17 per cent to 1,400 yuan for the next six to 12 month, saying in a report dated Wednesday that moderating growth resulted from Kweichow Moutai's move to prevent retail prices from rising too quickly.
"The third-quarter report will probably take Moutai's shares on a volatile roll, as the market is getting divided on its shipments," said Xue Yuan, an analyst at Citic Securities. "We still view it as a long-term buy, as the company is expected to maintain steady growth in the next few years."
Copyright (c) 2019. South China Morning Post Publishers Ltd. All rights reserved.