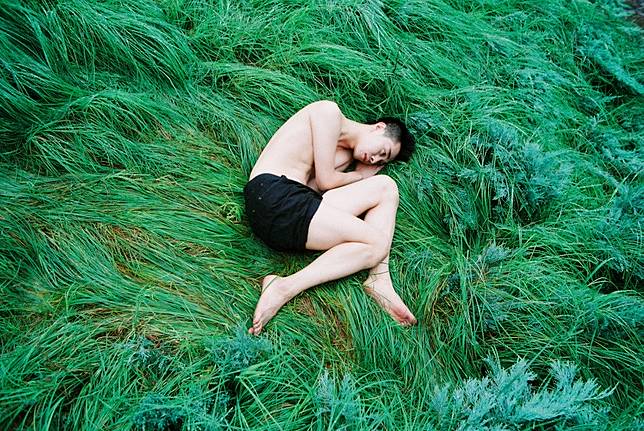 The upper floors of the Bangkok Art and Culture Centre were packed with an eager crowd, their phones out ready to film. You would have thought Beyonce was about to make an appearance. As music blasted, six performers emerged one by one in drag. Entertaining and aptly titled Land of a Thousand Rainbows, the performance was commissioned for the opening of an exhibition of contemporary art from Southeast Asia that explores LGBT themes.
Ming Wong, a Singaporean artist based in Berlin, was the best known of the performers. He was joined by artists Bradd, Radha, Tamarra, Josh Serafin and Amadiva in a performance based on Southeast Asian myths that finished with a rapid-fire rendition of Gloria Gaynor's I Will Survive.
Infused with sass, confidence, and a grand sense of celebration, the performance encapsulated the spirit of Sunpride Foundation, which has put on the exhibition, "Spectrosynthesis II: Exposure of Tolerance, LGBTQ in Southeast Asia".
The foundation was set up five years ago by Patrick Sun to raise awareness about LGBT issues through art. "From day one we knew exactly what we wanted to do," he says, "to help raise visibility and respect for the (LGBT) community through art exhibitions. That's how you can create a platform to communicate the issues you want to talk about - whatever issues are currently relevant to the community."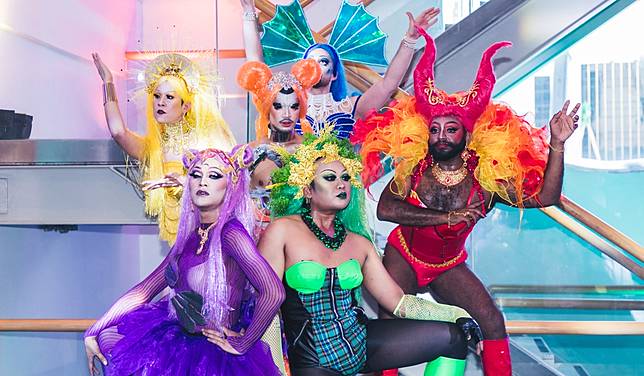 Featuring works by more than 50 artists, "Spectrosynthesis II" is the largest exhibition yet of its kind, and follows a previous show, "Spectrosynthesis", which had a successful run at Museum of Contemporary Art in Taipei, Taiwan, in 2017.
The exhibition explores the history of LGBT art in Southeast Asia and what it means to be a member of the LGBT community.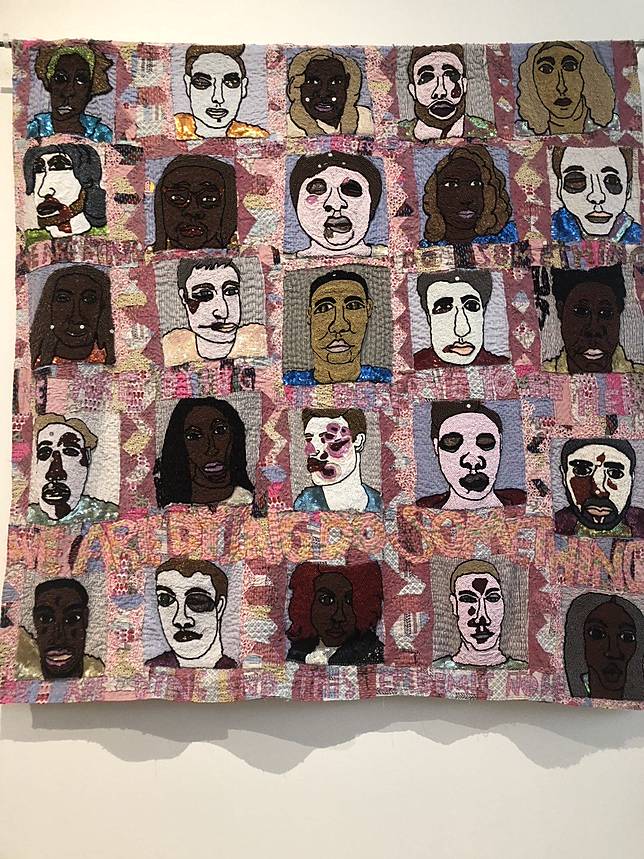 Its lead curator, Chatvichai Promadhattavedi, says: "We've set it up … to emphasise the relativity of difference. You are an individual, different from the one next to you. Members of the LGBTQ community are viewed as different, but among themselves they aren't that different.
"Additionally it addresses sex and sexuality, which is sometimes difficult to speak about in certain societies. It's a rare show. We hope people will become more open-minded through art."
The significance of holding the show in Thailand, where acceptance of the LGBT community is considered relatively high, is underscored by both Sun and Chatvichai.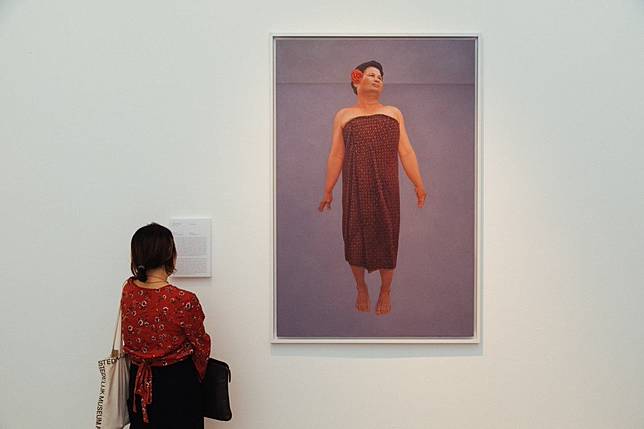 Chatvichai says Thais' "traditional philosophies are very liberal", and that "on the whole, Thai people have a different view of art. They say 'well it's just art anyway' so there's nothing to get hyper about."
Sun credits the local culture for the festive nature of the show. "The artists are more free and willing to express themselves," he observes.
He cites Malaysian artist Anne Samat's participation in the show as "incredibly brave and commendable". Living as an openly transgender artist in a conservative society such as Malaysia's requires a great degree of self-acceptance and confidence, traits reflected in her visually captivating multicoloured assemblage sculpture.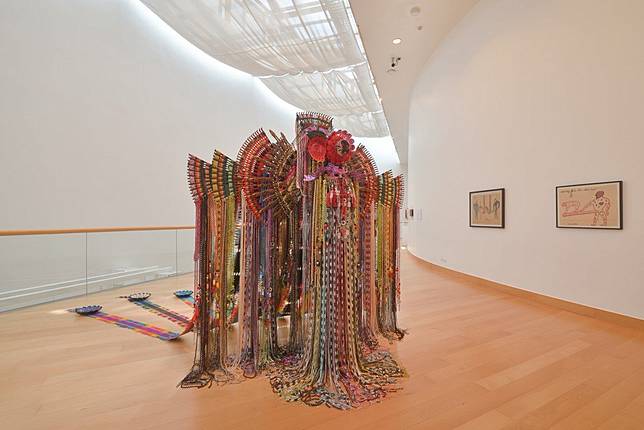 Comprising everyday objects, Conundrum Ka Sorga (To Heaven), features an androgynous figure with a rainbow train made from woven materials, and embedded tags carrying the names of her friends from the LGBT community.
Reflection, remembrance and celebration go hand in hand in this exhibition. For his installation A Stitch in Time, Filipino artist David Medalla was inspired by a handkerchief that connected him to a total stranger and one of his former lovers. He encourages viewers and fellow artists taking part in the exhibition to sew or attach their own trinkets to its boat-like structure.
For Sun, the inspiration for the work is profound. "In this universe, we are all somehow connected. Our hopes and deeds are all interwoven into history," he says.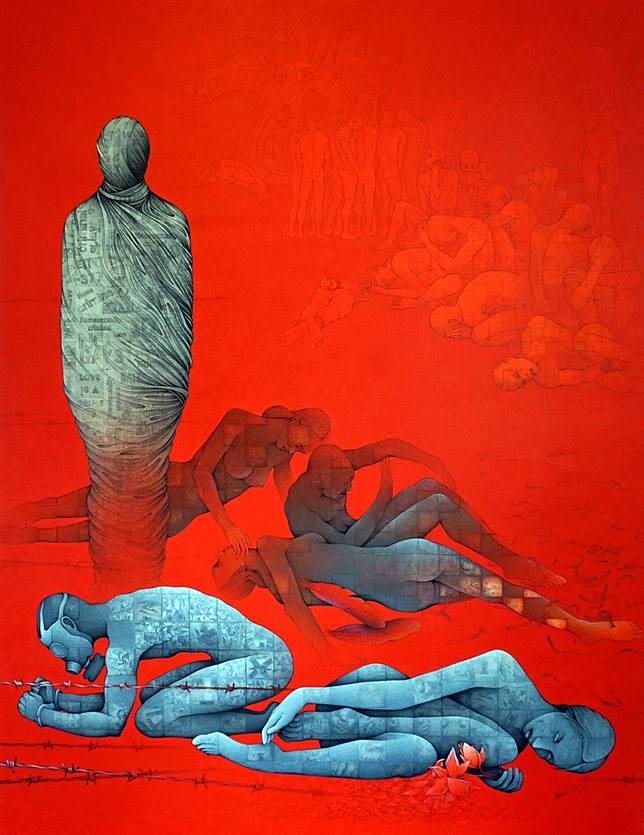 Balbir Krishan from India combines the personal and political in two paintings that reflect on the differences before and after the historic repeal of section 377 of the Indian penal code that criminalised sex between men. Vibrant and arresting, the paintings stem from his personal history of facing discrimination and prejudice as a gay man in India, which eventually led to a suicide attempt on a railway track in which he lost his legs.
"Spectrosynthesis II" is a pioneering and positive endeavour that not only brings LGBT stories to the Asian public, but gives international exposure to LGBT artists in Asia and to their work. Sun attributes invitations he received to join the board of the Guggenheim Museum and the Tate's Asia-Pacific Acquisitions Committee to growing interest in LGBT art from Asia.
We hope people will become more open-minded through artChatvichai Promadhattavedi, curator
But what he really wants is for "people to be proud of themselves". He hopes that the biggest takeaway for members of the LGBT community from the exhibition will be "to see that we belong, and don't have to be secretive about who we really are. We can walk out in the open, and even have an exhibition at a public institution."
As for the majority of the public, he hopes "they come to realise that many issues faced by the LGBTQ community are universal, and (that) they discover that a lot of artists they admire turn out to be gay".
Spectrosynthesis II - Exposure of Tolerance: LGBTQ in Southeast Asia, until March 1, 2020
Copyright (c) 2019. South China Morning Post Publishers Ltd. All rights reserved.