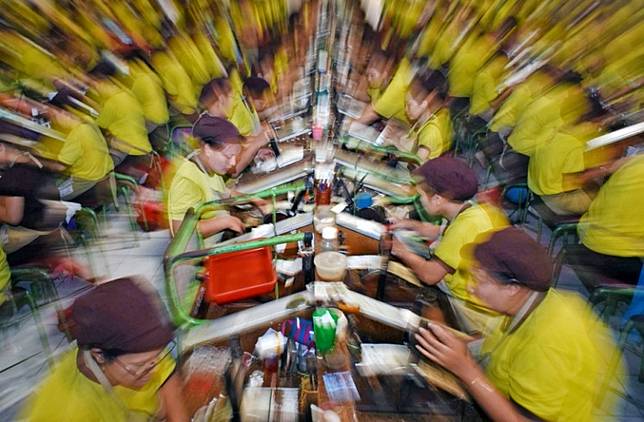 Factory activity in Indonesia fell to its lowest level ever in the second quarter as the coronavirus pandemic caused a slump in demand and disrupted supply chains, a survey published by Bank Indonesia (BI) showed.
BI's Prompt Manufacturing Index (PMI-BI) was recorded at 28.55 percent, its deepest ever contraction, compared with 45.64 percent in the first quarter this year. An index reading above 50 indicates expansion while below 50 reflects contraction.
The central bank survey showed that all component indexes, including overall output and new orders, declined for the second consecutive quarter. The production volume index was the lowest at 25.36 percent, followed by the order volume index at 28.95 percent and goods stock volume at 32.28 percent.
"The contraction was due to lower demand and supply chain disruption amid the COVID-19 pandemic," the central bank said in a statement. "We expect the performance of the manufacturing sector to pick up in the third quarter despite still being in the contraction phase."
All manufacturing sectors tumbled in the second quarter, with deepest contraction recorded in textile and leather goods, as well as wood and forest products, according to the PMI-BI survey. The central bank expects all sectors of manufacturing to pick up in the third quarter from its lowest level in the April-June period.
Manufacturers are now hoping activities will pick up following the reopening of the economy after three months of large-scale social restrictions (PSBB), which forced factories to halt production and retail stores to close to curb the spread of COVID-19.
However, the coronavirus outbreak remains a threat to manufacturers with employees at several factories testing positive for COVID-19, including of publicly listed consumer goods giant PT Unilever Indonesia and automaker PT Toyota Motor Manufacturing, prompting temporary closures of the plants.
BI's survey was largely in line with IHS Markit's Purchasing Managers Index (PMI), the gauge for manufacturing activities. Indonesia's PMI rose to 39.1 in June from 28.6 in May.
The PMI survey showed that business activity in the manufacturing sector weakened further in the second quarter, but the rate of deterioration has cooled markedly since May following the easing of virus containment measures throughout June.
Factory output fell for a fourth straight month in June, albeit at a slower pace than was recorded in April and May, while inflows of new orders fell further in June, the survey showed.
"With expectations of further easing of PSBB and a return to normality, business sentiment rose sharply to the highest seen since January before the pandemic escalated, as firms generally expect output to rise in the year ahead," said IHS Markit principal economist Bernard Aw.
"However, recovery in the coming months will be challenging as survey data showed manufacturing output and sales still falling at substantial rates," he went on to say. "Factories also continued to retrench workers in June amid further signs of spare capacity. Purchasing activity was reduced further as firms sought to control costs in response to weak demand."
The manufacturing industry contributed around 19 percent of Indonesia's gross domestic product (GDP), which grew 2.97 percent in the first quarter, the slowest rate since 2001. The government expects the economy to contract 0.4 percent or grow by up to 1 percent this year.
Exports of manufactured goods fell 25.9 percent year-on-year (yoy) to US$8.3 billion in May. Meanwhile, imports of raw materials and capital goods fell more than 40 percent each to $6.1 billion and $1.3 billion, respectively. The data is the latest sign of weakening manufacturing activities nationwide due to the coronavirus pandemic.
"The significant contraction in manufacturing activity will take a toll on economic growth and household spending," Permata Bank economist Josua Pardede told The Jakarta Post. Lower manufacturing production will translate into job losses and lower income, dampening consumption growth as the main driver of the national economy.
The manufacturing sector will pick up in the third quarter from its deepest level, although it will still remain in a contraction phase, as firms resume activities following the economic reopening, he said.
"The government should move swiftly in spending the stimulus for businesses to help the battered manufacturing sector," he went on to say. "Risks, however, remain for manufacturers as recent COVID-19 cases in factories showed they need to do more or otherwise risk a further slump."