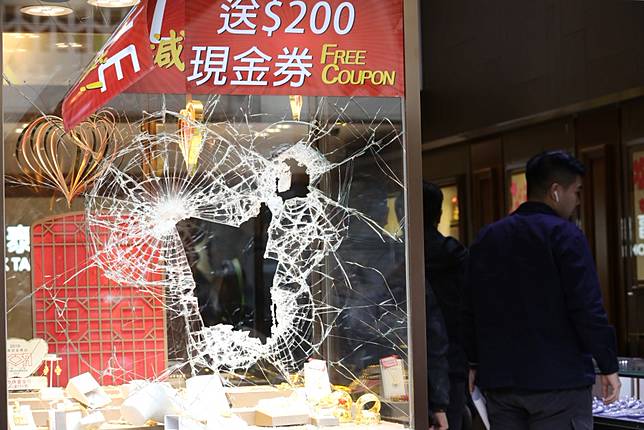 Hong Kong police were able to solve only a third of reported crimes last year, the lowest rate since 2001, while the number of offences surged for the first time in 13 years, reflecting the toll taken on law enforcement by months of anti-government protests and social unrest.
The worrying figures were unveiled in the government's annual budget report on Wednesday, as the Post learned police planned to resume foot patrols to battle a recent surge in robberies when thousands of officers assigned to special protest squads return to their regular duties in March.
Police handled 59,225 reports of crime in 2019, solving 21,965. The overall detection rate was 37 per cent, down from 46.5 per cent in 2018.
Both the rate and the total number of crimes solved were the lowest since 2001, and it also marked the first overall rise in crime since 2006, when there were 81,125 reports.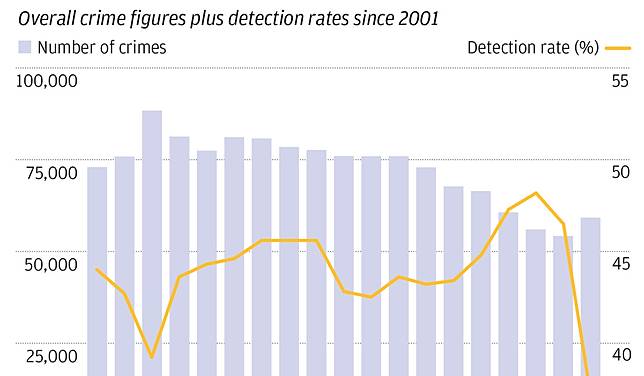 While the budget document did not provide a breakdown of the kinds of crime reported, the Post learned there were surges in offences such as robbery, burglary, theft from vehicles, criminal damage and arson.
Police recorded a fourfold surge in the number of robberies, from 44 cases in the first six months of 2019 to about 160 in the second half of the year. Standing at more than 200, the annual total was up by about 40 per cent from 147 reports in 2018.
Force insiders said the drop in the detection rate was expected because of the number of officers diverted to protest duty.
"We don't have enough manpower to conduct stop-and-search on the streets, investigate quick-cash crimes, and carry out raids against drug dens, gambling establishments and brothels," one police source said.
He said Hong Kong, Macau and Guangdong police had also suspended their joint, annual crackdown on serious, triad-related crime.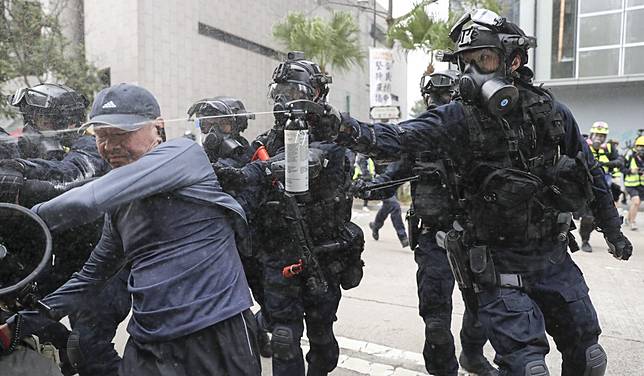 The number of raids conducted by police and the number of offenders arrested by uniformed officers were both down year on year, by 41 per cent and 24 per cent respectively.
About a fifth of the force's 30,000 officers were assigned to anti-riot squads to tackle the unrest sparked by opposition to the government's now-withdrawn extradition bill.
Police stopped foot patrols in August to protect officers from attacks by radical protesters.
But from March, sources said, two-thirds of the 6,000 officers redeployed to tackle the protests would be withdrawn from their respective anti-riot squads in two phases on March 1 and 8.
One source said the remaining 2,000 officers, including personnel seconded to the Police Tactical Unit and the Special Tactical Squad, also known as Raptors, would remain with them in case of future flare-ups.
He said the assignments were ending because the scale of the protests had shrunk and this would allow more officers to return to regular policing.
Once the 4,000 officers returned to their original postings, he said, the force would have sufficient manpower to resume walking the beat.
"We will step up enforcement action against crimes such as robbery and burglary once we get manpower back," a senior officer said, noting the sharp rise in the number of crimes in recent months.
The force will revert to the usual three shifts a day, ending a regime of two 12-hour shifts a day brought in when resources were tied up with the protests.
But the return to normality will be limited - another source said security measures such as the installation of water-filled barriers at government headquarters in Admiralty, police headquarters in Wan Chai, and various police stations across the city would remain in place.
And even if foot patrols resumed, the source said, officers would undertake them in pairs or groups to ensure their safety.
"With foot patrols, police can respond quicker in case of any emergency and cover areas that vehicles cannot access," he said. "The presence of uniformed officers on the streets has a deterrent effect."
Commissioner of Police Chris Tang Ping-keung, who took up the job in November, is expected to hold a press briefing on March 3 to review the overall law-and-order situation.
Police and customs officers seized 2.58 tonnes of illegal drugs in 2019, up 85 per cent from 1.39 tonnes in 2018.
Seizures of cocaine rose by about 145 per cent to 1.3 tonnes, while those of crystal meth and ketamine were up 170 per cent to 798kg. There was a 26 per cent rise in seizures of heroin, with 62kg of the drug netted in 2019.
"It is possible international drug dealers thought local authorities were busy dealing with the social unrest and deployed fewer officers to carry out inspections and investigation, so they shipped illegal drugs into the city," a law enforcement source said.
Copyright (c) 2020. South China Morning Post Publishers Ltd. All rights reserved.