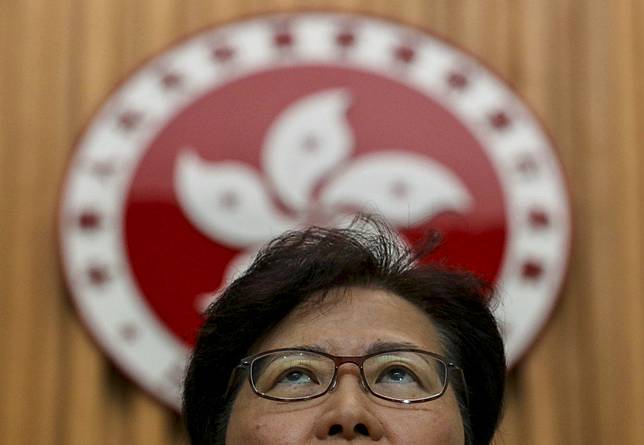 Hong Kong's summer of discontent has just transitioned into autumn. Will it drag on over the winter, even into next spring, a season that traditionally signifies hope and new life?
No wise man can tell, as the city's unprecedented political crisis shows no sign of ending, and neither is there any sign of an immediate leadership reshuffle which could help cool temperatures.
This reveals the reality of Hong Kong's political status as a special administrative region of China instead of an independent entity. Like it or not, Beijing has the final say in deciding the city's leadership.
Adding to the complexity of Beijing's considerations is the troubling, foreseeable, behind-the-scenes bargaining and manoeuvring among various interest groups.
Beijing cannot ignore all the political wrestling once a new round of top-job jockeying begins, years ahead of its original timetable. Incumbent Chief Executive Carrie Lam Cheng Yuet-ngor, who brought this self-inflicted turmoil with her now already "dead" extradition bill, still has about three years to go.
In theory, given the enormity of the anti-government protests and their profound political and economic impacts, a major leadership shake-up should be in the pipeline. But that is not happening in Hong Kong - at least not any time soon.
Instead, Lam is trying hard to - or has to - hang on and find solutions. She is launching a new initiative this Thursday: her first town hall attempting to feel the latest public pulse, which will be followed by more, although the effectiveness of such dialogue remains to be seen.
On the other hand, President Xi Jinping has openly commented for the first time on Hong Kong without mentioning the protests.
Yet, intriguingly, in his keynote speech last Friday to mark the 70th anniversary of the founding of the Chinese People's Political Consultative Conference, only two lines touched on Hong Kong, together with Macau.
Reiterating the "comprehensive and accurate" implementation of "one country, two systems", Xi urged the nation's top political advisory body to "guide its Hong Kong and Macau members to support" their local governments and the two chief executives to govern according to law.
Some political pundits in town jumped to the conclusion that Xi was backing the embattled Lam, but this was perhaps more of a show of support for the constitutional role of the chief executive than for a particular individual.
Still, it would probably provide the best spin for Lam's supporters. The chief executive, who will lead the Hong Kong delegation to Beijing for the October 1 National Day celebrations, knows well it is high time to prove herself more before heading up north.
For Beijing, any direct or indirect support for Lam goes together with the chief executive's position. That also reflects a buying-time strategy.
Hong Kong's crisis is a distraction at a bad time for Beijing: on the domestic front the economy is slowing down and soaring pork prices are posing an immediate and critical livelihood problem; on the international front the country is facing the unpredictable impact of the US-China trade war, which has been dragging on for 18 months with no end in sight.
If history is a mirror, Beijing needs more time to find a new cure for the "who to pick next" headache.
Over the past decades, it has tried business tycoon Tung Chee-hwa, bureaucrat Donald Tsang Yum-keu and professional surveyor Leung Chung-ying, before going back to bureaucrat Lam. Unfortunately, none of them could maintain their political honeymoon long enough before becoming overwhelmed by real problems.
Will Beijing go back to the business, professional or some other sector to look for a future chief executive to lead Hong Kong through more storms ahead?
Lam, ironically, has helped Beijing learn bitter new lessons in adversity.
Copyright (c) 2019. South China Morning Post Publishers Ltd. All rights reserved.