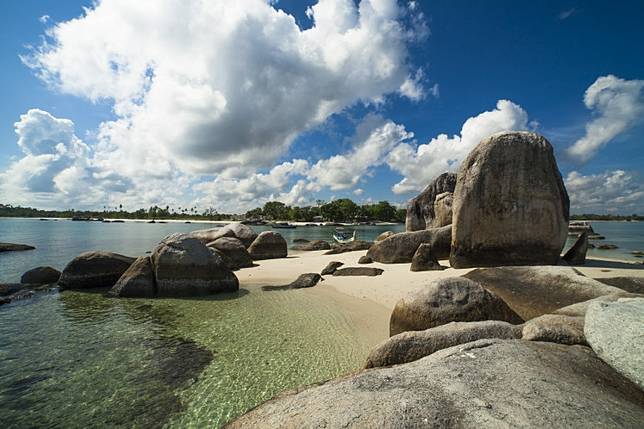 Indonesia is to push for Belitung geopark in Bangka Belitung province and Toba Caldera geopark in North Sumatra to be inducted into the UNESCO Global Geopark Network (GGN), an official has said.
The government previously proposed for the two geoparks to be listed in the network, but it would be further discussed during the upcoming 6th Asia Pacific Geoparks Network Symposium, said Anton Setyo Nugroho, an official at the Coordinating Maritime Affairs Ministry.
The symposium, which will bring together at least 612 geologists from 30 countries in the Asia-Pacific Region, is slated to be held from Sept. 3 to 6 on the island of Lombok, West Nusa Tenggara.
"The final discussion [about the proposal] will take place during the UNESCO Global Geopark council meeting in the symposium," Anton said on Wednesday.
Belitung, one of two main islands located off the east coast of Sumatra, is well known for its picturesque beaches and thousand-year-old granite rock formations, while Toba Caldera geopark, which includes the Toba Lake, is famous for its status as the largest volcanic lake in the world.
The GGN, which was established in 2004, serves to promote the world's geological heritage and encourage the parks' sustainable development. It allows members to work together "in raising the quality standards of all products and practices of UNESCO Global Geoparks".
There are 147 sites in 41 countries listed in the UNESCO Global Geoparks Network, according to the organization's official website
Four out of 15 national geoparks in Indonesia have been designated under the network as of 2018.
Batur Geopark in Bali was the first to be recognized by UNESCO in 2012, followed by Mount Sewu Geopark, which stretches across three provinces of Yogyakarta, Central Java and East Java, in 2015.
The other two national geoparks, Ciletuh-Pelabuhan Ratu in West Java and Rinjani on Lombok Island, were designated in the network last year.
Anton was optimistic that the upcoming symposium would boost Lombok's tourism following a series of strong earthquakes that struck the island last year.
Ridwansyah, an assistant to the West Nusa Tenggara regional secretary, said the event would be enlivened by various "interesting agenda" including a cultural carnival and field trips to popular destinations in the province, including one of North Lombok's gems, Gili Trawangan Island. (vny)