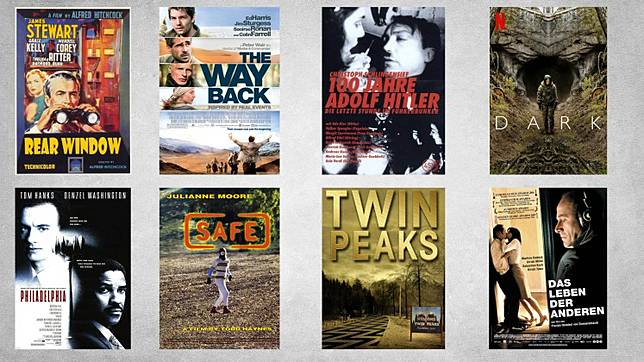 Real life is stranger than fiction because people only expect the ordinary. And that's where the current global health crisis has hit the hardest. 
In the past couple of months, people have had to adopt new lifestyles while struggling to get by after a drop in income or job loss. And then there were the frequent live-streaming of funerals for friends or relatives and the strange sight of clear Jakarta skies.
Works of fiction have become a needed distraction from reality. People turn to movies for a bit of laughter in dark times or to reclaim the luxury of not being emotionally invested in other people or situations, even if just for a while.
Some movies, however, are made to be an intriguing study of human nature, exploring the best and worst of people when facing difficult times.
Indonesian film programmer and archivist Lisabona Rahman and German documentary filmmaker Sebastian Winkels shared a list of movies that come to mind when dealing with the multidimensional consequences of the COVID-19 pandemic.
"In this unfamiliar situation that affects our sense of security, I tend to go to both depressive fiction and cheerful fiction," Lisabona said in an Instagram live episode of Bingkis (Thursday Talk) on May 21.
"And it's always good to explore titles that are less-known as we can expect some elements of surprises."
The biweekly event was initiated by Goethe-Institut Indonesien to facilitate artists and thinkers to reflect on the challenges they were facing during the pandemic.
The discussions, titled The Fiction – The Prediction, was moderated by Jakarta-based visual artist Rizki Lazuardi, who studied film and time-based media art at the HFBK University of Fine Arts in Hamburg, Germany.
Below are some of the movies whose narratives, according to the three, reflect the current situation.
REAR WINDOW
One of Alfred Hitchcock's best movies, the suspense thriller Rear Window ( 1954 ) follows photojournalist L.B. Jeffries (James Stewart) who is confined to his tiny apartment as recovers from a broken leg and uses his free time watching his neighbors with a pair of binoculars.
According to Rizki, the movie resembles the self-isolation of today as people are stuck at home "looking out the window and interpreting the life outside".
SAFE
Starring Julianne Moore, Todd Haynes' psychological horror Safe ( 1995 ) shows the struggle of a suburban housewife in Los Angeles, the United States, as she becomes sick with a mysterious illness.
Set in 1987, Haynes visualizes the effects of pharmaceutical chemicals during recovery and what a burden they can be on patients.
"The doctors said her problem was in her mind, while her community stayed aloof toward her. Without solutions, she becomes more and more isolated and finds consolation in herself," Lisabona said.
100 JAHRE ADOLF HITLER
Angry responses to the pandemic in Germany, subsequent street protests and the accusation made toward migrants as carriers of the disease prompted Winkels to revisit 100 Years Adolf Hitler: The Last Hour in Führerbunker ( 1989 ) by the late Christoph Schlingensief.
"You could see in the movie a closed community completely derailed and [going] mad," Winkels said.
"It's not easy to watch, but I find it deliberating. In times like this, we all need a bit of 'punk' attitude."
THE WAY BACK
Directed by Peter Weir, the 2010 film is inspired by The Long Walk: The True Story of A Trek to Freedom, a memoir of former Polish prisoner of war Slavomir Rawicz who escaped a Soviet labor camp with six other fellow prisoners.
They marched out of Siberia, through China, the Gobi Desert, Tibet and over the Himalayas to British India on foot.
"While in isolation, endurance is crucial. This survival film is a cheesy, old-fashioned adventure film but somehow uplifting watching people managing to endure," Winkels said.
PHILADELPHIA
The condemning attitude toward those related to the first cases of COVID-19 in Indonesia and on the other side, the solidarity formed to help those impacted by the pandemic reminded Lisabona of the main messages delivered in this 1993 movie.
The legal drama was among the first of Hollywood movies to spotlight HIV/AIDS and homophobia.
"It evokes a good feeling to see humanity and solidarity reflected in a movie where people can turn to be more aggressive in an unfamiliar situation," Lisabona said.
DARK
The first German language Netflix original series, Dark (2017-2020) is a critically acclaimed science fiction thriller, the third and final season for which was released in June.
Cocreated by Baran bo Odar and Jantje Friese, the series is set in a fictitious German town in the present day where the disappearance of two children exposes the supernatural saga involving four families. 
"The story somehow relates to our current situation, in which people in an isolated town feel threatened by something they don't understand," Rizki said.
TWIN PEAKS
Winkels' favorite watch during the pandemic, Twin Peaks (TV series 1990-1991, 2017) is a surreal American mystery-horror drama created by Mark Frost and David Lynch. 
It follows an investigation headed by idiosyncratic FBI special agent Dale Cooper (Kyle MacLachlan) into the murder of a homecoming queen in the more idiosyncratic fictional town of Twin Peaks. Season three, which was released in 2017, picks up 25 years after the town is shaken by the murder. 
"We can't tell where the evil is coming from, we can't tell which is real and which is not real in the series," Winkels said. "And it has everything in it; solidarity, prejudice, anxiety and fear are well told in the series."
DAS LEBEN DER ANDEREN
Titled The Lives of Others ( 2006 ) for international releases, the film by Florian Henckel von Donnersmarck won an Oscar as Best Foreign Language Film in 2007.
The movie was the first drama about the East German socialist state, 17 years after it ended. It follows an agent of Stasi, East Germany's secret police, who is ordered to closely monitor a playwright and his girlfriend, an actress coveted by a minister. 
"The movie depicts the psychological and political tension we experience now," said Lisabona.
"It's about government surveillance, which was later adopted by the common people out of terror and fear and turned them against each other." (ste)