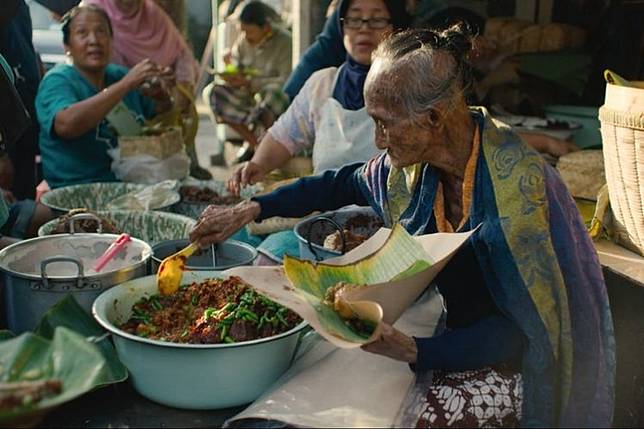 Yogyakarta's legendary gudeg (traditional rice dish served with jackfruit stewed in coconut milk and various side dishes) seller Biyem Setyo Utomo, popularly known as Mbah Lindu, passed away on Sunday at 6 p.m., kompas.com reports.
Mbah Lindu was among Yogyakarta's street food sellers featured in Street Food: Asia, Netflix's documentary series created by American film director David Gelb.
The series showed Mbah Lindu selling Yogyakarta's iconic dish gudeg on Jl. Sosrowijayan.
In the show, Mbah Lindu said that she was already over 100 years old and made all the food by herself.
Food writer Kevindra Prianto Soemantri told The Jakarta Post via messaging app that Mbah Lindu had been selling gudeg for over 80 years.
"She started was she was a teenager, together with her mother," said Kevindra, who was among the Indonesian consultants who collaborated with the Street Food team.
Read also: Heartfelt stories are main dish in Netflix's 'Street Food'
Kevindra remembered Mbah Lindu as a funny woman who was always laughing.  "When we visited her house and kitchen, she did not hesitate to share the stories from her past, as if we were members of her family," Kevindra recalled.
Mudiati, one of Mbah Lindu's family members, said that the legendary gudeg seller fell on June 6 as she was walking to her kitchen.
Although Mbah Lindu had passed the gudeg stall to her daughter Ratiyah, she was still helping out in the kitchen.
After being hospitalized for two days, Mbah Lindu returned home. She died of old age. (kes)