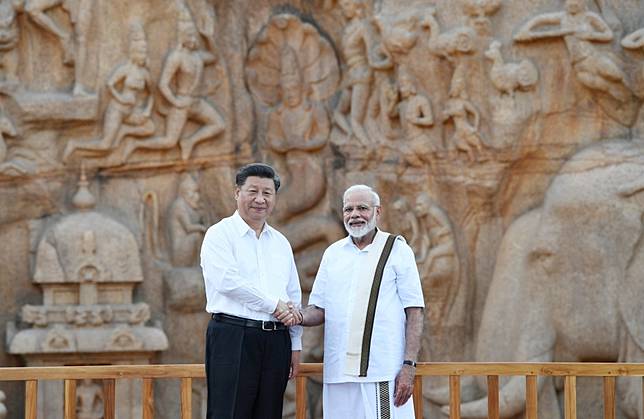 Timing is everything where the trade war between China and the United States is concerned. President Xi Jinping's first overseas trip since the 70th anniversary celebrations of the People's Republic of China on October 1 was to neighbours India and Nepal. The former still refuses to join the Belt and Road Initiative, a key strategy for Beijing to counter the slowing of the Chinese economy, and the latter is an avowed supporter. Pushing the project is an understandable priority amid the uncertainty Washington has created.
The location of Xi's informal summit with Indian Prime Minister, Narendra Modi, the seaside resort of Mamallapuram, was significant; it was an integral part of ancient China's silk trade route. But India did not offer to join the belt and road, instead agreeing to focus on business while prudently managing differences. They established a high-level economic and trade dialogue mechanism between finance ministers to boost import and export volumes, bridge the huge trade deficit, and increase mutual investment. Proving the perceived success of the talks format, pioneered in Wuhan last year, Modi will make a return visit to China in 2020, while confidence and trust-building efforts will continue through the resumption of dialogue over the nations' disputed border, and cooperation in fighting terrorism.
But mistrust between Asia's two giants runs deep, not helped by the reshaping of power dynamics through China's substantial economic and military edge. The contentious boundary, the result of a war in 1962, and Beijing's close ties to New Delhi's arch-rival, Pakistan, are significant impediments to smooth ties. A key test of the success of the two days of meetings will come at the end of the month, when the leaders attend the Association of Southeast Asian Nations' summit in Bangkok, where the conclusion of negotiations for the 16-country Regional Comprehensive Economic Partnership free-trade zone is expected; India has yet to join, largely out of concern for China's trade policies.
China's relations with Nepal do not suffer from such drawbacks, with the Nepalese perceiving Chinese aid and the belt and road as essential for the poverty-stricken country's development prospects. A total of 20 agreements were signed during Xi's weekend visit, among them pacts on trade and investment, connectivity and border management. But there were apparently no deals on a border road and a controversial extradition treaty, the latter presumably out of concern for the 20,000 Tibetan refugees living in Nepal.
The success of the belt and road depends on stability and Xi's India and Nepal visits have made significant inroads. Putting aside suspicion and building trust through trade, investment and cooperation is the best place to start.
Copyright (c) 2019. South China Morning Post Publishers Ltd. All rights reserved.