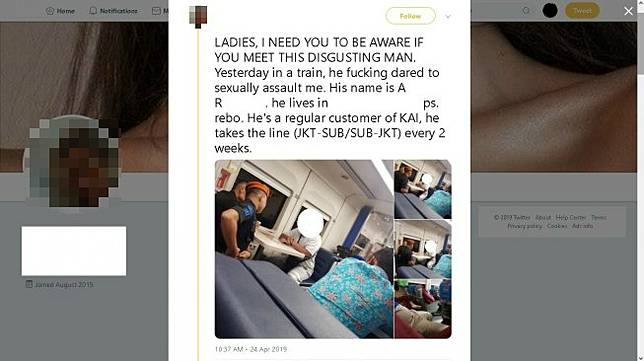 A woman's tweets alleging officials' extremely misogynistic handling of sexual harassment on a train in Indonesia have gone viral in what seems to be yet another case of officials victim blaming women.
In a thread posted on Twitter yesterday, which has been retweeted over 21,000 times as of this morning, the victim, who goes by the handle @xrybqby, said she was sitting next to a man on the train from Jakarta to Surabaya recently. After they had what seemed to be a friendly chat, the man, identified by his initials AR, allegedly began harassing her.
"… around 2 am, i felt a hand squeezing mine. he then took my hand and kissed it, sniffed it, and put it in his mouth (SO FUCKING DISGUSTING). i was so scared i froze," @xrybqby tweeted.
"i faked asleep under the blanket, showing my discomfort, i took my hand back. but he was so strong he rubbed on my arm and my stomach. wasnt done, he guided my hand and FORCED IT TO RUB HIS FUCKING DICK. i didnt know what to do, i was scared if i opened my eyes he would do more."
@xrybqby said she eventually built up the courage to stand up to him by reporting AR to security officers on the train. But they allegedly only made things worse for her.
"Eh, it's normal, he is a man after all. It's better if we talk this through. He's a customer, so I have to guard his privacy. After all, you look like a karaoke girl. Not a good girl. Of course he dared [to touch you]," the victim tweeted quoting a security officer in Indonesian, as translated here.
"This is why we need feminism," she wrote in the following tweet.
@xrybqby initially did not make it clear what happened after the encounter with the security officer, but state-owned train company PT KAI confirmed that the incident did take place. However, a spokesman claimed the matter had already been resolved.
"KAI wants to make clear that the incident has been resolved in a kekeluargaan manner between victim and perpetrator," PT KAI Spokesperson Edy Kuswoyo told Kompas yesterday.
Kekeluargaan, which roughly translates to "between family members", is an Indonesian euphemism for amicably coming to an agreement not to press charges for a crime.
But tweets by the victim since then suggest that it had been far from an amicable ordeal for @xrybqby and that she did not forgive her harasser. She says that she, along with her "troops" of supporters, will meet with PT KAI to discuss the incident this weekend.
We have reached out to @xrybqby and will update this article with her response.