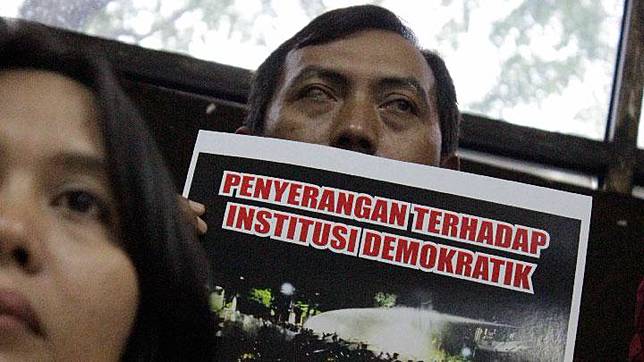 TEMPO.CO, Jakarta - The Indonesian Legal Aid Institute (YLBHI) head Muhammad Isnur outlines three blunders of President Joko "Jokowi" Widodo in the aspect of law enforcement and human rights during his first term of office.
Isnur opines that the President hurts the families of victims of past unsolved human rights violations by appointing Wiranto as Coordinating Minister for Politics, Legal, and Security Affairs (Menkopolhukam).
"That is a bad record in the history of human rights in Indonesia. How could he [Wiranto] possibly expose severe violations of human rights in the past if he serves as Menkopolhukam?" said Isnur during a public discussion 'Habis Gelap Terbitlah Kelam' in Central Jakarta, Monday, October 14.
While in fact, Isnur goes on, Jokowi through his nine priority program dubbed Nawacita pledges to settle cases of past human rights violations.
Secondly, the President tapped H.M. Prasetyo as the Attorney General, while the position should be seated by someone neutral, impartial, and not a political tool. "But [he appointed] someone from a political party, [Prasetyo is] from NasDem," Isnur added.
Thirdly, Isnur considers there is no attempt to strengthen the National Commission for Human Rights (Komnas HAM). He recalls that during a visit of Jusuf Kalla to Komnas HAM, the Vice President said that human rights only belong to authorities, instead of the public.
"That indicates that something is not right there," Isnur remarked.
Additionally, the Attorney General's Office (AGO) often rejects investigation files submitted by Komnas HAM, including cases of severe violations such as in Aceh, 65, Wamena, Trisakti, Semanggi 1 and 2.
"If AGO does not want to conduct an investigation, it could pass on the case, order Komnas HAM to do so, instead of throwing out the files," Isnur underlined.
HALIDA BUNGA