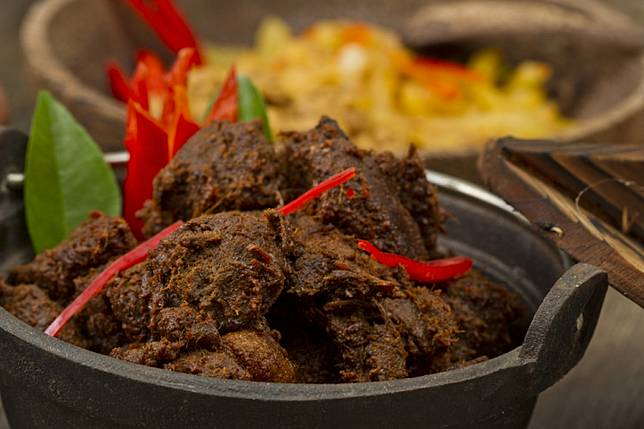 Cooking alongside Gordon Ramsay as his mentor in the West Sumatra episode of the second season of Gordon Ramsay: Uncharted was Indonesia's own culinary expert, 73-year-old William Wongso. 
After previously sharing Ramsay's rendang (meat slow-cooked in coconut milk and spices) recipe, here is the rendang recipe used by William during the show:
Rendang Padang
Serve: 16 to 18 pieces
Ingredients:
1 kg topside beef (diced into 4 x 4 cm cubes)
1.5 liter coconut milk or coconut cream
2 g tamarind
30 g lemongrass
1 turmeric leaf
4 kaffir lime leaves
salt to taste 
Chili paste:
150 g red chili
40 g shallots
40 g garlic
30 g candlenuts
1 g cloves
60 g galangal 
Method:
Blend red chili, shallots, garlic, candlenuts, galangal, cloves and turmeric into a paste.
Prepare saucepan, add coconut cream and spice paste and mix well, bring to the boil.
Add diced beef, mix well.
Add kaffir lime leaves, tamarind and lemongrass and keep stirring until the color of the sauce changes to golden brown and the oil comes out from the coconut milk.
Continue stirring on a low heat until the sauce color changes to dark brown and caramelizes and the meat is tender.
Serve with steamed rice.