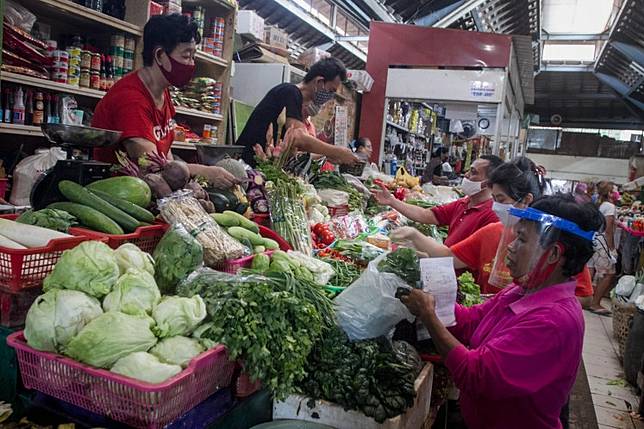 The national COVID-19 task force has encouraged the public to keep wearing masks to prevent the transmission of the novel coronavirus, following a recent report by the World Health Organization that acknowledges the virus may be transmitted through the air.  
According to I Gusti Ngurah Mahardika, a Udayana University virologist who is also part of the task force's expert staff, airborne transmission was possible in crowded indoor spaces such as malls, offices, restaurants and public transportation that had air conditioning (AC) instead of natural ventilation.
Another expert staffer, Budiman Bela, said transmission potential was higher in rooms and indoor spaces where the air was cold because the virus tended to be more stable at low temperatures.
The two experts emphasized that chances for transmission could be minimized if people wore masks.
"Contagion is likely to occur in closed buildings with ACs, but if the people inside wear masks and maintain physical distancing, then the potential of transmission is much lower. Wearing masks remains a top preventive measure," Budiman, who is also a microbiologist at the University of Indonesia (UI), said during a press briefing on Friday.
"The mask stops any particles from the individual's mouth and nose from traveling into the air."
On Thursday, the WHO released new guidelines encouraging people to avoid crowds and ensure good ventilation, explaining that some outbreak reports related to crowded indoor spaces have suggested the possibility of aerosol transmission. This is in addition to contact with contaminated surfaces or with infected people who spread the virus through droplets released when they cough, sneeze, speak or sing.
Therefore, Mahardika urged public service providers to ensure the use of natural ventilation such as opening doors and windows.
On the other hand, he said, using exhaust fans was an alternative to help lower transmission potential in indoor spaces.
"We can reduce the viral load in the air by propelling the air through an exhaust vent."
Mahardika reiterated that wearing masks should not be based on fear of contracting the virus but rather the awareness that anyone — including ourselves — could be a carrier and might infect others.
"Wear a mask if you care about the people around you."