Heaving a sigh of relief as I come to end of the terrifying Lights Out, I nearly jump out of my skin when I turn to see a woman kneeling at my seat in the darkened cabin. She is smiling, her lips are moving and it is obvious that she has been talking to me - or trying to - for some time. But I have heard nothing.
I rip off my earbuds and return to the smooth humming of the plane, and her profound apologies as she realises the fright she has given me. This won't be the only time that I have to stop from yelping when I turn around to find one of the flight crew talking to me.
I'm taking my new Sony WF-1000XM3 true wireless noise-cancelling earbuds out for a test run on flight CX749 to Johannesburg, and it hasn't taken long to discover that the noise cancelling levels are way more than respectable. That is what will set Sony's latest earbuds apart from the competition.
I have never been a fan of bulky headphones when travelling; it's the reason my Bose QuietComfort 35, the firm favourites of frequent travellers, have been languishing in their case for the past year. Another petty reason is that wearing the over-ear headphones for an extended time leaves an indentation in your hair!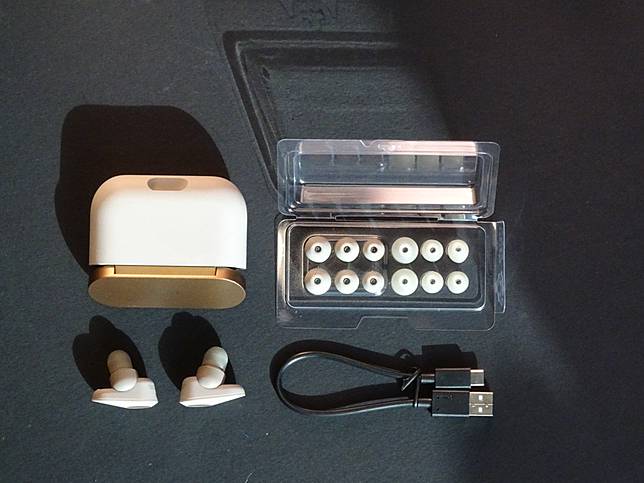 But, back to my Sony WF-1000XM3 earbuds (can we talk about these impossible-to-remember names you insist on naming your products, Sony?). Their biggest flaw compared to the Bose is that they cannot be used for in-flight entertainment since you cannot connect them to the system. So if you're planning on using them to watch movies on the system, these are not the earpieces for you. They're also not for the gym or exercise, as they are not water resistant.
As I prefer to bring my own entertainment either on my iPhone or my iPad, that doesn't bother me. My biggest concern when I pop the earbuds into my ears at the start of the midnight flight is whether one of them should get dislodged if I fall asleep halfway through my movie, which I frequently do.
The WF-1000XM3 earbuds are a close to perfect fit. The in-ears come with seven sizes of earbuds, which is more than most of the competitors provide. If I loved the fit of the Klipsch T5 True Wireless (see our review here), then I am ecstatic over the WF-1000XM3s.
Sony has applied an ergonomic tri-hold structure designed to make contact with three different points on your ear for a "more secure, comfortable fit". Added to that, a high-friction rubber surface keeps the earbuds snug and secure. You insert them in the ear at a slight downward angle and twist to lock in place. You hardly feel them after that.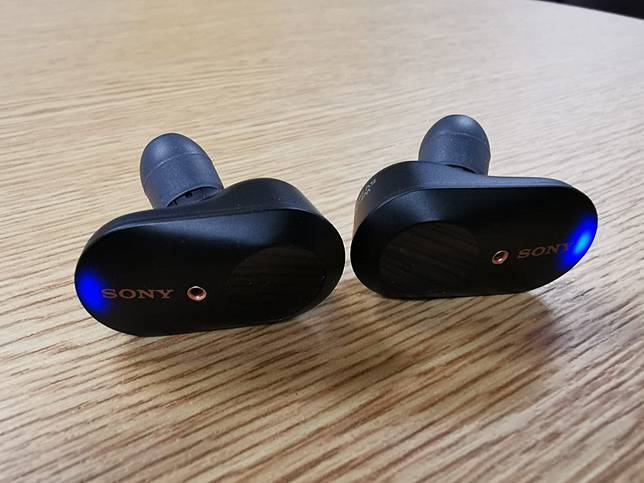 As expected, I did fall asleep for a while halfway through listening to the Guardians of the Galaxy soundtrack, but those earbuds stayed firmly in place. They also stayed in through a lot of headshaking trials; they would have been great for exercise if they were also water-resistant. Chance wasted, Sony.
Still, having lost too many in-ear earphones to that big void in the plane, I was not comfortable with keeping them in-ear while I slept and risked brushing them out with my hands.
The earbuds come in two colours: black and platinum silver, which look more beige than traditional silver. I opted for the silver so that people could see I was wearing earbuds and not get offended when I ignored their attempts to talk to me. However, this didn't help on board the flight.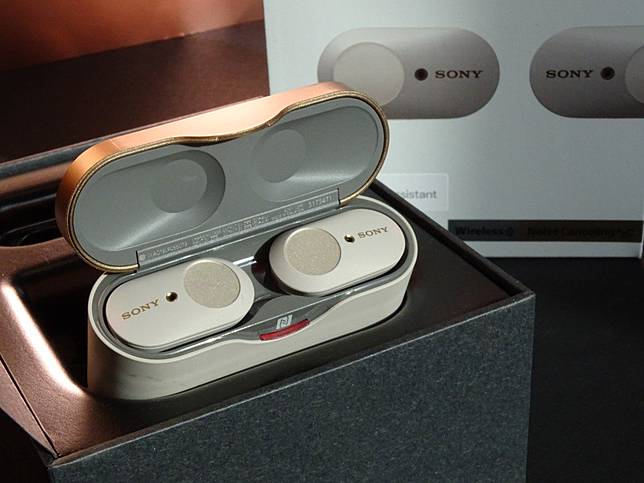 The controls were easy to operate. A headphone app allows you greater control over the functions, and to check the battery level on each earbud you can choose which controls you want on each bud. By default, tapping on the left earbud allows you to choose whether you want ambient noise or noise-cancellation. The right earbud controls playback in skipping to the next track or going back one.
The mystery here is why Sony chose to forego volume control on the earbuds: it can only be done via the connected device, which isn't convenient if your phone is in your bag.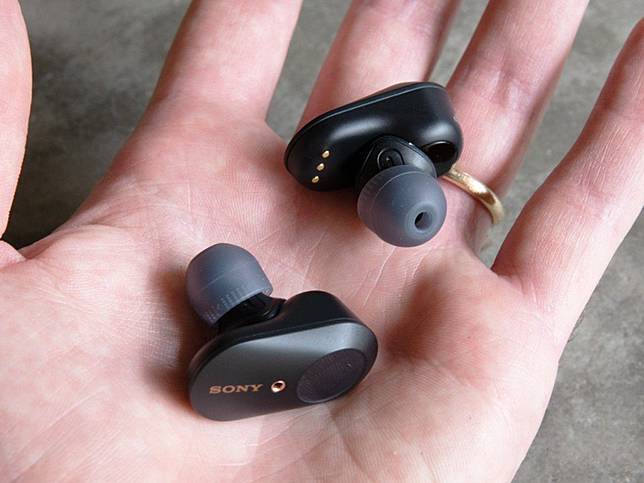 The battery life is comparable to its new rivals, the Powerbeats Pro and the Klipsch T5 True Wireless, and way better than Apple's Airpods which are starting to look like a poor cousin. The WF-1000XM3 earbuds offer six hours of playing life with noise cancellation and an extra two without, but the case offers three extra charges that take it up to 24 hours. In the unlikely event that you run out of juice, a 10-minute charge will give you 90 minutes.
The jewel in the crown is the WF-1000XM3's sound: crisp, clear and balanced between highs and lows, everything I listened to was a true auditory experience. While I loved my Klipsch when I got them, the Sony earbuds are a notch above them in everything - except volume controls and water resistance.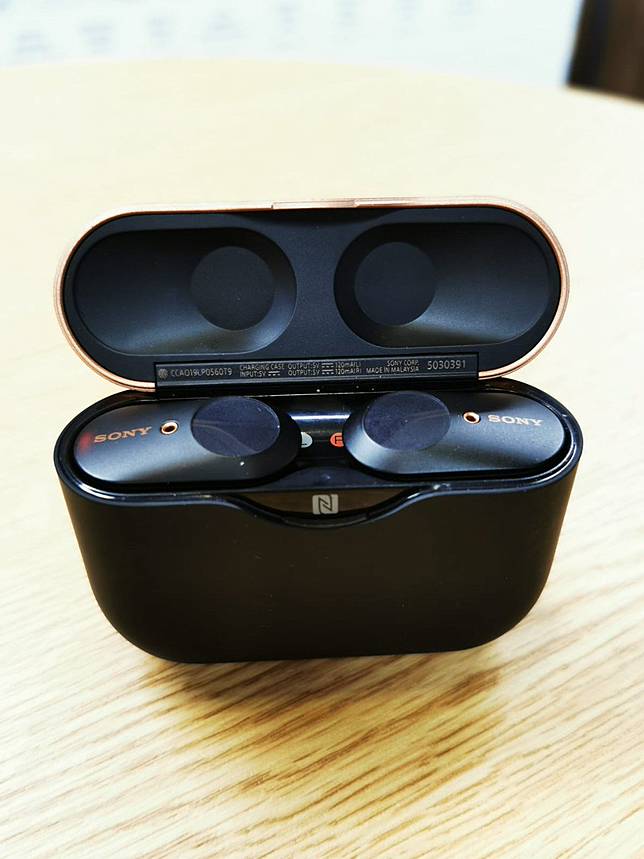 The case is slightly bigger than the Airpods and the Klipsch T5 True Wireless, but smaller than the Powerbeats Pro and much lighter than the latter two. It's still a manageable size and beats carrying the Bose Quietcomfort 35 case. These are the only real noise cancelling in-ear headphones on the market right now.
In terms of weight, sound and fit, I can comfortably say the Sony WF-1000XM3 are going to be my constant travel companions from now on.
Want more stories like this? Sign up here. Follow STYLE on Facebook, Instagram, YouTube and Twitter
Copyright (c) 2019. South China Morning Post Publishers Ltd. All rights reserved.