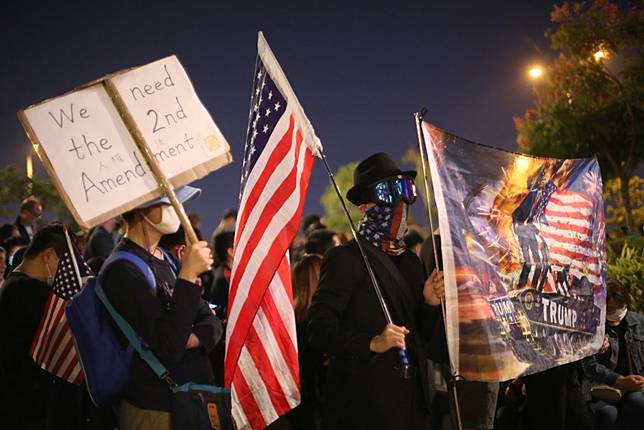 President Donald Trump has a straightforward choice on legislation passed on to him by the United States Congress supporting the protests that have engulfed Hong Kong - approve or veto. Coming amid tough bargaining on his trade war with China, he may be tempted to make his decision part of the negotiations. He is also only too aware of what Beijing thinks, its repeated accusations of interference in internal affairs becoming ever-louder. But his choice has to be based on common sense and with all sides bound to suffer should he give his backing, the only viable option is rejection.
Anti-China sentiment is rife in the US, Republicans and Democrats alike having unfavourable views of Beijing and increasing numbers of Americans seeing the nation as an economic, technological and military threat. Accusations by Hong Kong protesters of police using excessive force were a convenient vehicle for lawmakers to latch onto to garner the support of voters.
The House of Representatives on Wednesday followed the lead of the Senate in overwhelmingly approving two pieces of legislation: The Hong Kong Human Rights and Democracy Act, which requires the president to annually review the favourable trading status that the US gives to Hong Kong, threatening to revoke it and impose penalties against officials if freedoms are determined to have been quashed; and the Protect Hong Kong Act, which will block the sale of tear gas and other policing items. The former, although largely symbolic, could alter Washington's relationship with Hong Kong and Beijing.
The 1992 law giving Hong Kong special status over mainland China in areas including trade and transport has brought 1,400 US companies and 85,000 Americans to the city. An annual assessment would involve reviewing whether it is autonomous enough and adequately enforcing US export regulations and US and UN sanctions. If standards are found to have declined, officials determined to have suppressed basic freedoms would have their American assets frozen and be barred from the US. To Americans, bombarded by media images of battles between demonstrators and police, these are reasonable actions.
But Beijing sees such measures as striking at the heart of Chinese sovereignty. Radical protesters could be spurred to greater violence. Unspecified countermeasures are promised should Trump give his approval. With the trade war talks at a sensitive juncture, the terms of a "phase one" agreement and time and place for its signing still uncertain, he is bound to see an opportunity.
He may use the acts as a way to push a deal with Beijing. But the trade war, violence and legislation have damaged business sentiment in Hong Kong. Approval or not, pessimism and uncertainty have already been deepened. There can be no winners.
Copyright (c) 2019. South China Morning Post Publishers Ltd. All rights reserved.