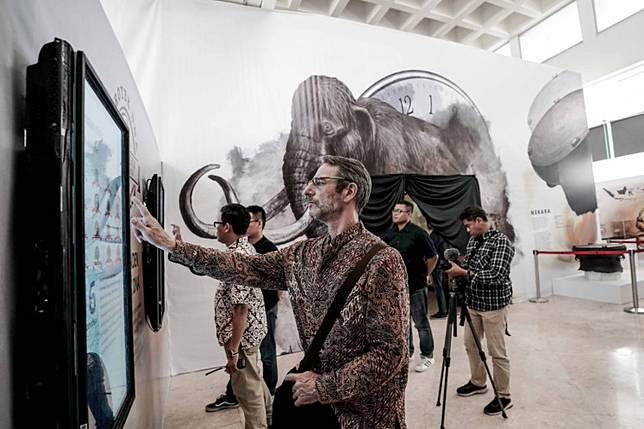 Compared to the movie Joker, an event that has garnered much less buzz is an ongoing exhibition at the National Museum on Jl. Medan Merdeka Barat in Central Jakarta. Visitors to the display entitled Asal Usul Orang Indonesia (Origins of Indonesians), which runs until Nov. 10, will get a better grasp of our roots — and lots of roots there are too, it turns out.
We're Indonesian and Asian, obviously, besides identifying with one or more of the hundreds of ethnicities in the country. But scientific findings have confirmed that we are much more than that. The display at the museum, organized by the Historia.id history magazine and the Education and Culture Ministry is based on their collaborative study of DNA samples from 16 respondents from across the country, including public figures. It was researchers of the Eijkman Institute of Molecular Biology under Herawati Supolo Sudoyo, its deputy for basic research, who earlier traced ancestors of Indonesians from thousands of samples of DNA of Indonesians from 35 ethnic groups.
Intriguingly we learned that famous talk show host Najwa Shihab, one of the volunteers for the study by Historia.id and the ministry, is not predominantly Arabic, as her facial features and name may suggest, but almost half South Asian with only 3.48 percent Middle Eastern genes in her DNA; while ancestors of vocalist Nazril "Ariel" Irham of the band Noah were traced to South and East Asia and even Greece.
The scientists, like others before them, have explained that many of our thousands of islands were one landmass eons ago. In her article published in The Conversation in 2017, Herawati wrote of the findings of almost 3,000 samples of chromosome Y, the DNA inherited from fathers, and from samples of mitochondria, inherited from mothers, of around 3,700 people. The research consulting also "anthropologists, archeologists, linguists and computer scientists to reconstruct the history of settlement in the archipelago", Herawati wrote, would be the first known study on the genetics of humans in Indonesia, as available data only revealed human migration through Asia and Australia.
Among the findings first published in the Nature journal, she reports that people in Indonesia's western parts are mostly speakers of Austronesian languages found in Southeast Asia, Madagascar and the Pacific islands. People in the eastern part speak non-Austronesian languages. Meanwhile, those in Mentawai and Nias islands of North Sumatra are somehow related to fellow Asians speaking an Austronesian tongue of the Formosa islands, now known as Taiwan.
The research, made more popular by the exhibition, of course, confirms that our prejudices, and worse racism, against those who look "different", is downright stupid, toxic and even fatal as reflected by too many assaults on minorities. No one is pribumi (native) as we are all clearly migrants to a greater or lesser extent.
The anticolonial movement started the nation-building process of the islanders within the former Dutch East Indies; and young activists in 1928 proclaimed that "Indonesia" was our shared islands and waters, our nation and our language, whatever our differences.
The scientists of the above studies remind us to honor our rich diversity, inherited from ancestors arriving from all corners of the globe.