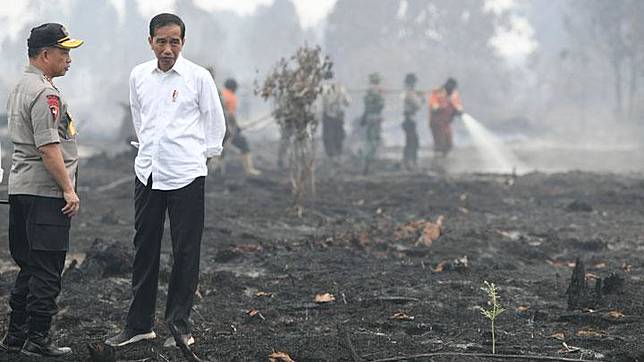 TEMPO.CO, Jakarta - The World Wildlife Fund or WWF Indonesia suggested the government impose an emergency status of wildfire following wide-spreading land and forest fires in Sumatra and Kalimantan that produced thick smog. The status determination is aimed at preserving the remaining forest.
WWF Indonesia conservation director Lukas Adhyakso, during a discussion on Indonesia in emergency status and forest rescue efforts in Jakarta, Tuesday, September 17, called all parties to put out fires.
Referred to the Environment and Forestry Ministry data, some 300,000 hectares of lands and forests have been burnt. The causes of the fire incident were complex, starting from drought, natural condition, to rampant illegal land clearing.
Lukas added that WWF Indonesia was overwhelmed to handle the fire which occurred near the facility and location of its conservation programs in the two islands, including in Gambut Londerang Protected Forest in Jambi, Bukit Tigapuluh National Park in Riau, Tesso Nilo National Park in Riau, and Sebangau National Park in Central Kalimantan.
"We need to optimize our joint efforts, and so Indonesia announces wildfire emergency status. We need all parties to extinguish fire together, and in the future, we have to raise public concern to prevent this incident from recurrence," Lukas remarked.
ANTARA