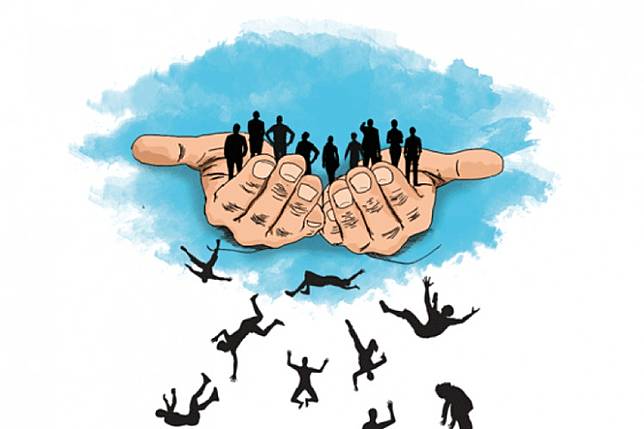 The much-vaunted Indonesian millennial, sought after by politicians for their votes and businesspeople for their cash, is a mainstay in the media – recent online news headlines about millennials range from the Indonesian Ulema Council (MUI) launching a new app to appeal to millennials to the development of new houses for millennials, priced at Rp 200 million (US$14,567) to 500 million.
In January, the Education and Culture Ministry announced that the word, or the Indonesian equivalent milenial, was the most popular word in the country throughout 2019.
In general, the typical media conception of the Indonesian millennial is not that different from its global counterpart – that of an upper-middle class, highly-educated, latte-sipping, GoFood-ordering urban youth, probably employed in the technology or creative sector.
But the data shows that most of the country's millennials only have a high-school level education, work in blue-collar or low-level service jobs, with an average monthly income of only around US$150.
According to the Wittgenstein Centre for Demography and Global Human Capital, only 14.4 percent of millennials in Indonesia have any post-secondary education at all, while only a tiny 0.38 percent have graduate degrees. And according to BPS data from 2017, the average wage for a millennial is only around Rp 2.1 million.
Even in the cosmopolitan region of Greater Jakarta, which has the largest per capita income in the country, around 25 percent of men aged 20 to 34 and 38 percent of women only have junior high school diplomas or lower, according to a joint Australian National University and University of Indonesia study in 2010.
 Living with nine relatives in a small one bedroom house measuring about 25 square meters in Kampung Muka, North Jakarta, 22-year-old Tri Adhitia Diantomo, known to friends and family as Adit, is thus much more representative of the majority of millennials than the common media depiction might have you believe.
Adit stopped going to school after graduating from the local state junior high, because he was "naughty," by his own admission, and now earns a salary of Rp 1.5 million ($106) a month working six days a week as a driver for a forwarding agent, picking up packages from Senen train station in Central Jakarta and driving them as far away as Depok and Bekasi in the neighboring province of West Java.
Adit said he planned to pursue a Kejar Paket C, or senior high-school equivalency diploma, next year, which would allow him to seek a job at a bigger company, for bigger pay.
One of his high-school graduate friends, he said, worked as a driver for a television station, and made around Rp 4 million a month.
His current job is far from the white-collar, high-tech work that people might imagine millennials engage in.
The work is physical and arduous, involving the loading and unloading of unwieldy boxes in the Jakarta heat, and driving long distances in an old, air-conditionless pick-up truck.
The deliveries he makes include smaller packages like fruit and documents, to large shipments ranging from motorcycles to live animals. Adit said the weirdest package he had to deliver was a live pig.
The pig was eventually delivered to the private home of a wealthy man who kept many other animals in his house. "It was like a zoo," he recalled.
Despite the labor-intensive nature of his job, Adit said he enjoyed it, because it allowed him to be outdoors and go different places.
According to BPS data from 2017, around 20 percent of millennials are blue-collar workers, while around 25 percent work in sales or service jobs, compared to only 1.4 percent who hold managerial positions and 7 percent who work in professional jobs.
Wearing a red Sheila on 7 T-shirt, and a bunch of colorful Sheila on 7 rubber bracelets, Adit, whose hobbies include listening to music and watching YouTube videos, and who has no plans to get his own place anytime soon, does have some things in common with the stereotypical millennial.
He is also pretty tech-savvy, though the only gadget he owns is a Chinese-made smartphone that he bought on layaway. "If it's not destroyed, I won't replace it," he said, laughing.
Almost all of his salary currently goes to installments for the motorcycle he recently bought, and he depends on his per diem of Rp 50,000 (plus the occasional tip) for miscellaneous expenses such as data packages for his phone and going to Sheila on 7 concerts.
But mostly he spends his free time at the local community unit (RW) office with the neighborhood youth group. On Wednesday nights, he practices percussion with his friends – not on drum sets but on used buckets and paint cans. They play at weddings and community gatherings and have even performed in front of Jakarta Governor Anies Baswedan.
When asked what he would do if he could do anything, Adit said he would open an angkringan-style coffee shop that didn't have any wi-fi, "so people will have to talk to each other instead of looking at their phones."