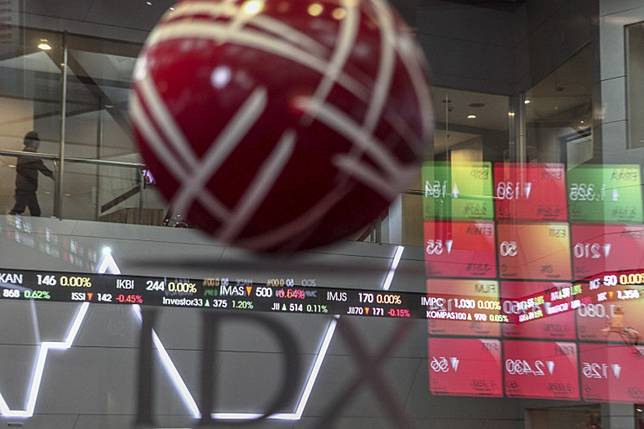 Investors should gear up for upcoming market uncertainty nearing the United States presidential election, an equity analyst has said, suggesting that August would be the last month for now to go on a buying spree. 
"August may be the only month we can happily trade [this year]. After that, we suggest investors go defensive to survive the upcoming turmoil," Sukor Sekuritas head of research Adrianus Bias said in a discussion withThe Jakarta Post on Tuesday. 
Read also: Pharma stocks surge as market brims with vaccine optimism
"And then, probably in the fourth quarter – around November, December – we can start to actively trade again after the dust settles," he said, adding that there would likely be adjustment in the market as investors waited on the election winner's policy announcement. 
Adrianus noted that with the forthcoming ambivalence in the market, he projected that the benchmark Jakarta Composite Index (JCI) would not return to the level of 6,000 points or even break above 5,500 points this year.
Additionally, the lower-than-expected earnings performance from companies listed on the Indonesian Stock Exchange (IDX) also contributed to the index inability to recover to its prepandemic level this year, he said. 
The JCI is down 17.68 percent so far this year after closing at 6,299.54 on the last day of 2019. Following the market rout in March, the index recorded an upward rally that sustained until July. Since the beginning of August, the JCI has gained around 1.41 percent.
The IDX reported that publicly listed companies' net profit dipped early this year. In the first quarter, the aggregate net profit declined 27.3 percent year-on-year (yoy) to Rp 72.77 trillion (US$5.01 billion), with only a few sectors booking growth. 
Adrianus noted that, in the second quarter, most companies' earnings were below expectations, despite him already expecting a poor performance. 
Going forward, he recommended that investors take different approaches in the third and fourth quarters.
"In the third quarter, we will stick to defensive names, those with resilient earnings profiles and huge dividends that make their valuation quite premium in comparison to the others," the analyst said. 
Read also: Domestic investors dominate stock market amid pandemic
He explained that consumer stocks, telecommunication and tower players were preferred for their earnings feasibility, while also adding commodity stocks that trade nickel and gold to his list of preferred stocks. 
"Going into the fourth quarter, the story is reversed. Those who suffer in the third or second quarter, whose performance was bad, should create a low-base performance for a rebound," he said. 
He went on to say that these stocks that suffered during previous quarters would most likely recover significantly when market uncertainties passes, hence, suggesting investors look into property and construction stocks as well as banks that had suffered from loan restructuring in previous quarters.