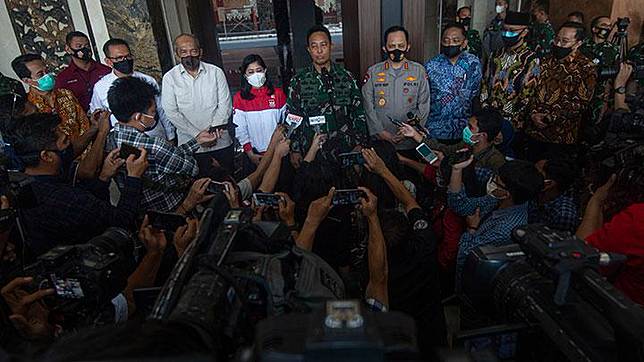 TEMPO.CO, Jakarta - Airlangga University Rector, M. Nasih, asked for the support of all parties for the drug combinations to cure Covid-19 found by a joint team from Airlangga University (Unair), State Intelligence Agency (BIN), National Army (TNI AD), and the food and drug monitoring agency (BPOM) can immediately be granted with production and distribution permits.
He claimed this will be the world's first Covid-19 cure.
Nasih explained that BPOM considers this medicine is a new thing even though it's the combination of various drugs.
"Since this will be a new medicine, we, of course, hope that it can be the first Covid-19 cure in the world," he said in a press conference at TNI AD headquarters, Saturday, August 15.
The Unair rector asked for TNI, Polri (National Police), BIN, Indonesian Medical Association (IDI), Indonesian Pharmacist Association, Kimia Farma, and Covid-19 mitigation committee to do away with their sectoral egos.
"In our opinion, what hampered the process until the original Indonesian medicine was found was the sectoral ego. This was what made the process long," he said.
In many countries, Nasih went on, various single drugs have been prescribed for Covid-19 patients. His side used these drugs as reference.
There are three combinations of drugs produced by Unair and have passed the clinical trials - only for non-ventilator patients.
"After we combined [these drugs], the healing power highly increases and is good. The effectivity reached 98 percent for certain combinations," said Nasih.
However, TNI AD Chief of Staff, General Andika Perkasa said the trial of the Covid-19 cures was limited to the patients who were treated without ventilators.
Read:
Indonesian Society of Respirology: Covid-19's Manifestations Getting More Varied
AHMAD FAIZ