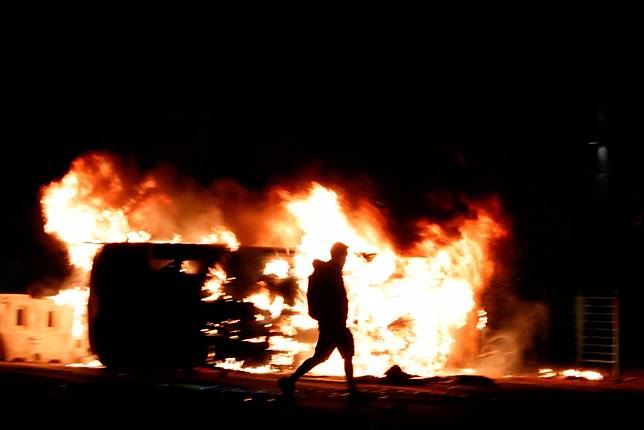 The US Senate on Thursday initiated an expedited "hotline" process to pass the Hong Kong Human Rights and Democracy Act, as the escalation of deadly clashes between the city's police and protesters turn the city into a battlefield and make headlines worldwide.
US Senator Marco Rubio, the bill's sponsor, and Senate Foreign Relations Committee chairman Jim Risch, started the quick passage process in a bid to speed up the passing of the bill, which would clear the way for sanctions against individuals deemed to have violated Hong Kong's autonomy from mainland China.
The strategic procedure carried out by the Senate's leadership checks for last-minute opposition to bringing a bill immediately to the floor for a vote. If no senators voice opposition to sidestepping a formal vote, the bill passes.
However, Rubio and Risch were not able to clinch passage by the end of the Senate session on Thursday, according to one Senate foreign relations committee aide.
"Sometimes the hotline process takes more than a day, so it's still moving along," the aide said, adding that the floor is closed until Monday.
Earlier in the day, Rubio urged the Senate to immediately pass the legislation. "The world witnesses the people of Hong Kong standing up every day to defend their long-cherished freedoms against an increasingly aggressive Beijing and Hong Kong government," Rubio, Republican of Florida, said in a statement.
"Their cries have been met with violence, and young Hong Kong lives have tragically been lost.
"Now more than ever, the United States must send a clear message to Beijing that the free world stands with Hongkongers in their struggle," Rubio said.
Rubio's comments came after China's state-run Xinhua news agency earlier on Thursday quoted Chinese President Xi Jinping as reiterating that Beijing supported the Hong Kong police's use of force to quell the "continuing radical violent crimes".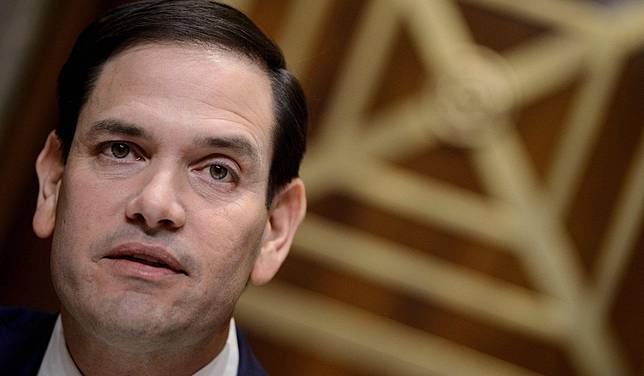 China's state-owned Global Times newspaper published a post to its Twitter account asserting that Hong Kong authorities were preparing to announce the imposition of a weekend curfew. The tweet was later deleted.
"The world needs to see that the United States will stand up and tell the Chinese Communist Party that what they are doing to the people of Hong Kong is wrong," Risch, Republican of Idaho, said.
"After more than two decades of broken promises, it is time to hold the Chinese Communist Party accountable for its erosion of Hong Kong's autonomy. The US stands with the people of Hong Kong, and I look forward to continuing to work with Senate leadership and my colleagues across the aisle to move this bill swiftly."
In 2007, Beijing said it would grant universal suffrage to the city in 2017, but that plan was scrapped when the Chinese government said in 2014 that the candidates had to be chosen by a "nominating committee".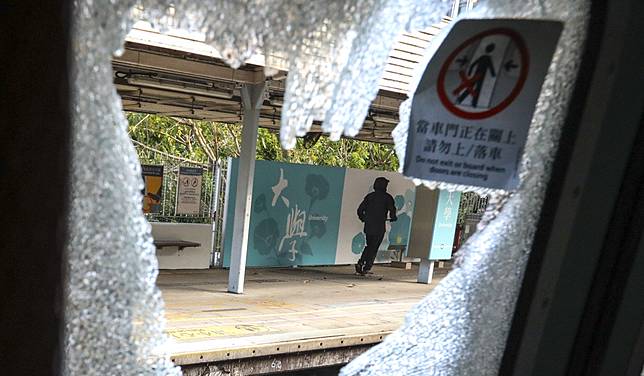 Hong Kong increasingly has become a battleground between police and protesters since June, when mass peaceful marches targeted a government proposal, since shelved, to allow the city's criminal -suspects to be extradited to mainland China.
Those protests have since morphed into a larger activism, with Hongkongers demanding the right to vote for their own city leaders.
This week, the pro-democracy protests have taken a dark turn. On Wednesday, a 15-year-old boy was hit in the head by what appeared to be a tear-gas canister, according to the city Hospital Authority.
A day earlier, a battle between police and protesters turned a top university's campus into a combat zone.
On Monday, a Hong Kong police officer shot a protester, while in a separate incident, protesters apparently set on fire a man who had expressed support for police outside an MTR station.
US Senate Majority Leader Mitch McConnell echoed Rubio and Risch in a tweet on Thursday, urging the US government to act quickly to protect the protesters: "The Senate needs to stand with Hong Kong, and I hope we can take action soon."
""I was encouraged by a productive conversation with (Rubio on Wednesday) on legislation to further help the people of Hong Kong."
The Hong Kong Human Rights and Democracy Act would give the president a mandate to impose sanctions on foreigners determined to be responsible for the extrajudicial rendition to the mainland, arbitrary detention, torture, or forced confession of people in Hong Kong, as well as for other gross violations of human rights in the city.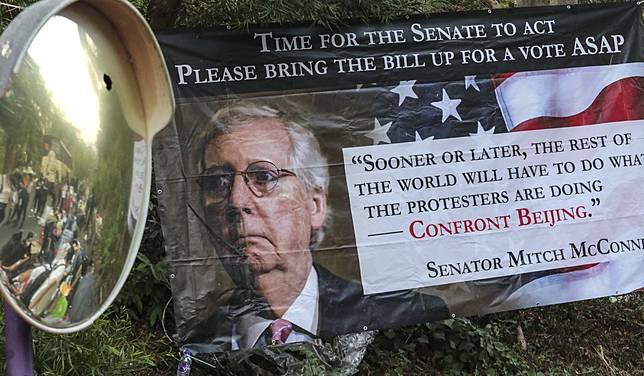 In addition, the bill would require the executive branch to develop a strategy to protect American citizens and others in Hong Kong from rendition or abduction to China, and to report annually to Congress any violations of US export control laws and United Nations sanctions occurring in the city. "
"Only international sanctions could impose some constraints on those who order to shoot and those who follow orders to shoot. The Senate needs to act as soon as possible on the Hong Kong Human Rights and Democracy Act"" said Victoria Tin-bor Hui, a board member of Hong Kong Democracy Council (HKDC), a Washington-based pro-democracy non-profit organisation.
Samuel Chu, an HKDC managing director, praised Rubio's effort to enact the process that would speed the bill's passage in the Senate.
"The quickest way for the Senate to move would be to seek unanimous consent using a hotline," he said.
"If the Hong Kong bill is hotline " and that can be done as soon as today " I firmly believe that the full Senate will stand united for Hong Kong."
"There is no time to waste, as every day we wake up to new images of a violent crackdown, increased bloodshed, mass arrests and suppressions on the streets, on university campuses, in private residences and even houses of worship," Chu said.
Additional reporting by Robert Delaney
Copyright (c) 2019. South China Morning Post Publishers Ltd. All rights reserved.