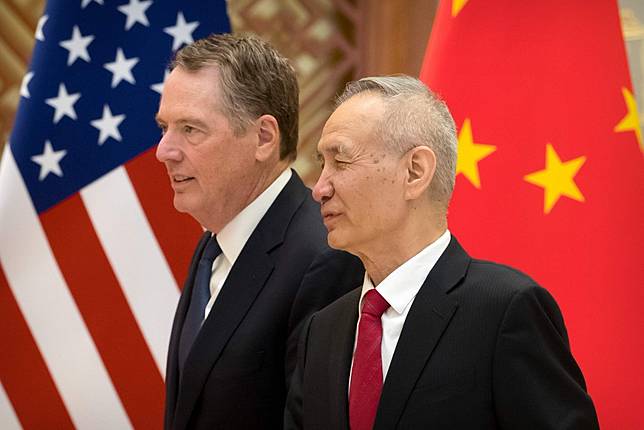 A high-level phone call between Chinese and US trade negotiators on Saturday was "constructive", according to China's state news agency Xinhua.
China's Vice-Premier Liu He, US Trade Representative Robert Lighthizer and US Treasury Secretary Steven Mnuchin discussed the two sides' core issues for the first phase of an initial trade deal, and agreed to maintain close communication, according to Xinhua which gave no other details in its report on Sunday.
The announcement stopped short of using phrases like "substantial progress" or "reaching consensus" as it had in previous statements about such calls.
While China was unlikely to make any further offers in the deal, it was still up to US President Donald Trump to agree to the terms, said Lu Xiang, a specialist on US affairs at the Chinese Academy of Social Sciences.
"I think the substantial part of the negotiations was done earlier this month," he said. "China is not likely to make new offers, and the ones that were made are not unconditional and are dependent on a decision by the US."
China's Ministry of Commerce said earlier in the month that the two sides had agreed to remove additional tariffs in phases once their leaders signed an interim deal towards ending the costly trade war. Trump rebuked that statement only a day later, saying he had not agreed to rollbacks of US tariffs sought by China.
Speaking at an event in New York on Tuesday, Trump again raised a possible escalation of the trade war.
"If we don't make a deal, we will substantially raise those tariffs," he said. But he added that "a significant phase one trade deal could happen soon" and that Beijing was "dying to make a deal".
The US has imposed a 25 per cent tariff on US$250 billion worth of Chinese imports and a 15 per cent duty on a further US$112 billion. A new 15 per cent tariff on US$156 billion worth of Chinese products is set to take effect on December 15.
Two days after Trump's remarks sent chills through US markets, White House economic adviser Larry Kudlow said on Thursday that the two sides were getting close to a deal, elaborating a day later that a partial trade agreement could be signed at the ministerial level, rather than by the two nations' presidents.
Lu said he believed the details of the agreement had been largely determined by the two sides already, through working-level negotiations.
"I believe, at minister level, the two sides have reached an agreement and it's up to the presidents to make a final decision," he said.
Additional reporting by Reuters
Listen to the South China Morning Post's podcasts on the US-China trade war here
Copyright (c) 2019. South China Morning Post Publishers Ltd. All rights reserved.