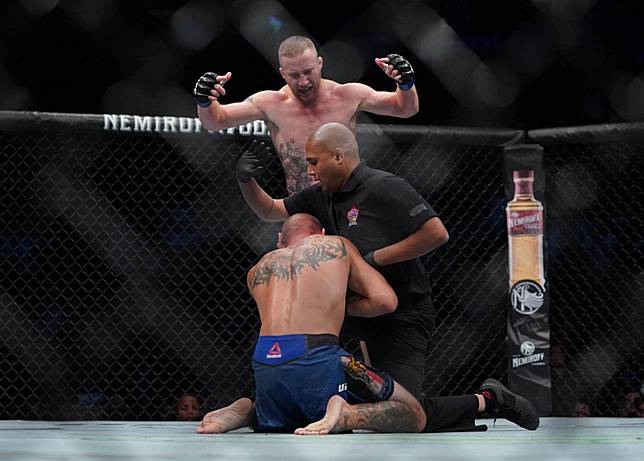 Justin Gaethje reeled off his third straight first-round knockout, beating Donald Cerrone by TKO at the Rogers Arena in Vancouver.
"Cowboy" got dropped with a counter right hand late in the first round. He got back to his feet, only to quickly get dropped again.
"The Highlight" looked hesitant to hit Cerrone on the ground, and glanced over to the referee, who finally waived it off after a couple more shots at 4:18. Gaethje berated the ref after the stoppage.
"The ref in the back said if you fall to our face it's over," Gaethje said. "I feel he fell like that two times … I know he's just doing his job. I didn't wanna keep punching him."
Gaethje moved to 21-2, and called to fight the winner of UFC lightweight champion Khabib Nurmagomedov and Tony Ferguson - should that suspected match-up come to fruition.
"The Irishman's (Conor McGregor) retired, I want a real fighter," said Gaethje, who earned a US$50,000 bonus for performance of the night. "I want the winner of Tony and Khabib.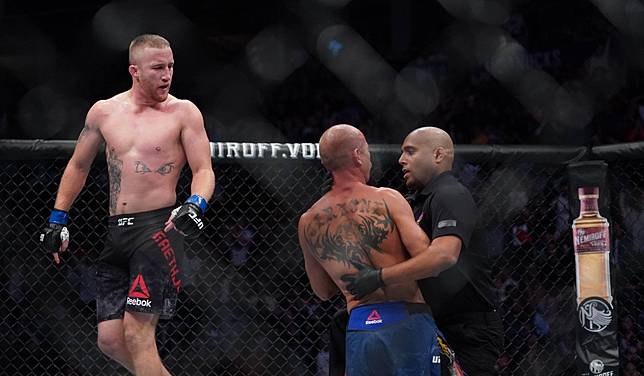 "I wanna fight Khabib before he's gone. If Tony wins, nobody's gonna miss that fight, we could put a million people in a stadium."
Gaethje admitted it was "God damn hard" to fight such a good friend in Cerrone - who had plenty of kind words for his opponent.
"Hey guys, sorry I couldn't continue. This kid's a stud," Cerrone said. "It's very hard to fight a friend. What a cool dude, What a cool sport. Tomorrow I wake up and get to go fight again. Justin go have some fun brother."
Cerrone said he was annoyed about the stoppage in a backstage interview with ESPN's John Gooden.
"We always have a plan man, I got no excuses. I don't know what to say. I'm not gonna try to blame the ref, saying early stoppage, he's gotta do his job," he said.
"I felt like I was still there. I can't overrule their decisions. Man, it sucks to get your ass whipped that bad."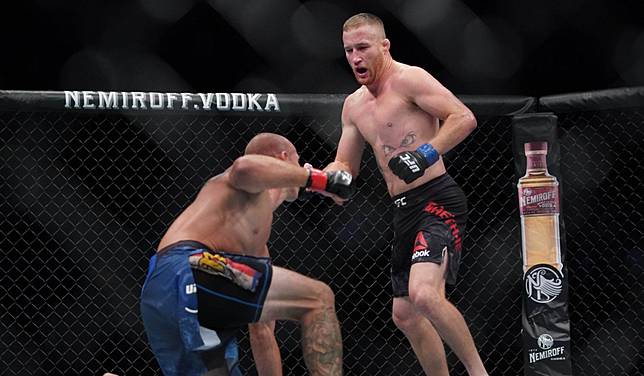 The 36-year-old, who was ranked No 4 in the lightweight division with Gaethje No 5, said he was going to call UFC president Dana White on Sunday to try and arrange his next fight.
"Winning's cool, losing sucks, but it's the journey. Even though my head's down, it's like I say to my boy, I'm gonna give you 24 hours to have a little bit of self doubt, then tomorrow morning you better be a brand new man, we start again. Moping around, I just get today to do it. Tomorrow I gotta figure out what's next," he said.
"More than anything, not just for me, all the people that came, my friends and family, that's the biggest letdown. I'm not going anywhere, not gonna retire any time soon."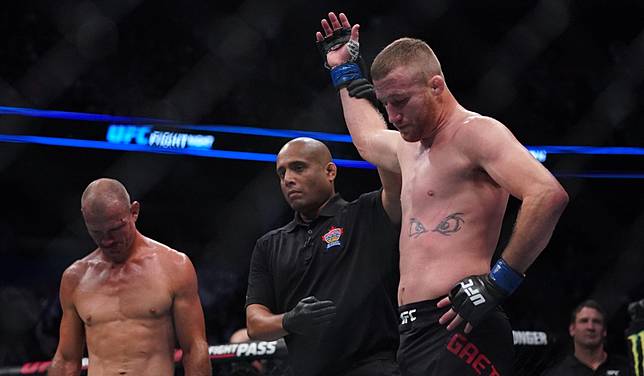 Earlier, Glover Teixeira (30-7) got a split decision win against Nikita Krylov (25-7) in the co-main event, after Todd Duffee's heavyweight fight with Jeff Hughes (10-2, 1 no contest) was ruled a no contest in the first round because of an eye poke to Duffee (9-3, 1 no contest).
Misha Cirkunov (15-5) got a US$50,000 bonus for performance of the night after a first-round submission of Jim Crute (10-1) in their opening light heavyweight bout.
Uriah Hall moved to 15-9 with a split decision over Antonio Carlos Junior (10-4, 1 no contest) in their middleweight bout. Tristan Connelly (11-6) then pulled off an upset with a unanimous decision against the flamboyant Michel Pereira (22-10, 2 no contests).
Copyright (c) 2019. South China Morning Post Publishers Ltd. All rights reserved.