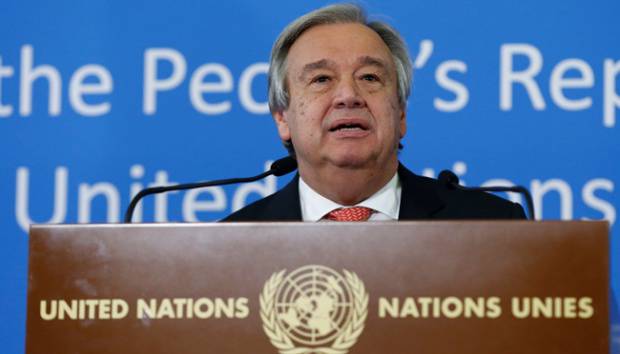 TEMPO.CO, Brussels - After a summer of wildfires, heatwaves and hurricanes, United Nations Secretary-General Antonio Guterres says he is banking on new pledges from governments and businesses to abandon fossil fuels during a specialclimate summit in New York on Monday.
With Swedish teen Greta Thunberg and other activists piling pressure on delegates ahead of theClimate Action Summit, U.N. officials expect about 60 countries to build on their commitments to the 2015 Paris Agreement to combat global warming.
"We are losing the fight againstclimate change," Guterres told a news conference on Wednesday. "I expect that there will be the announcement and unveiling of a number of meaningful plans on reducing emissions in the next decade and achieving carbon neutrality by 2050," he said.
On the stage next week will be countries including small island states most vulnerable to sea-level rise and European nations such as France and Germany, according to a draft schedule seen by Reuters.
So far, big economies that still build or finance coal plants – such as Japan, South Korea and Australia - are not due to speak - but may still introduce plans. And U.S. President Donald Trump and Brazilian President Jair Bolsonaro, among the world's only global leaders that publicly questionclimate science, are not due to take part, their representatives said.
Environmental groups say the summit is coming at a crucial time, as extreme weather events and spiking temperatures affect more people in more parts of the globe.
"The meeting couldn't be more important," said May Boeve, executive director of 350.org, aclimate activist group. "It means countries will need to finally talk about the source of the flames engulfing our planet: fossil fuels."
REUTERS