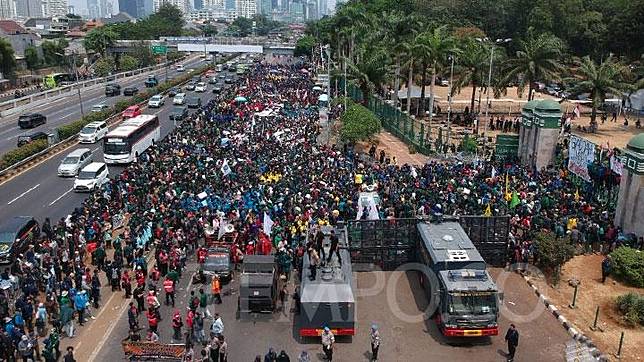 TEMPO.CO, Jakarta - Jakarta Metro Police's traffic unit is implementing the traffic engineering at several roads in the vicinity of the parliament building during the protest held by university students in front of the House of Representative (DPR) office today, September 24.
Coming from various universities, the students reorganize the demonstration, rejecting the passing of the criminal code draft bill (RUU KUHP), the revision of the law of corruption eradication commission (KPK Law Revision), and other issues.
"Correct, we've set the traffic engineering," said traffic police chief of law enforcement Sr. Comsr. M Nasir on Tuesday, September 24.
The police said several roads are closed by using the movable concrete barrier (MCB), water barrier and iron wire. The road in front of the parliament building has been closed.
"The traffic engineering involves 252 traffic police personnel," said Nasir.
Check the following traffic engineering in several spots in the city:
- Jalan Gatot Subroto heading to Slipi is closed. The traffic under the Ladogi flyover is directed to Gerbang Pemuda
- Traffic at Jalan Gerbang Pemuda heading to the left is closed and it is directed to Jalan Asia Afrika heading to Jalan Senayan and Jalan Pakubuono
- Jalan Asia Afrika en routing to Jalan Gerbang Pemuda is closed. The traffic is directed to go straight to Jalan Tentara Pelajar.
- Traffic at Jalan Tentara Pelajar from Manggala Wanabakti's traffic light heading to Jalan Lapangan Tembak is closed. It is directed to Jalan Tentara Pelajar heading to Permata Hijau and Kebayoran Lama
- Jalan Tentara Pelajar Pojok and Jalan Gatot Subroto are totally closed.
M Yusuf Manurung