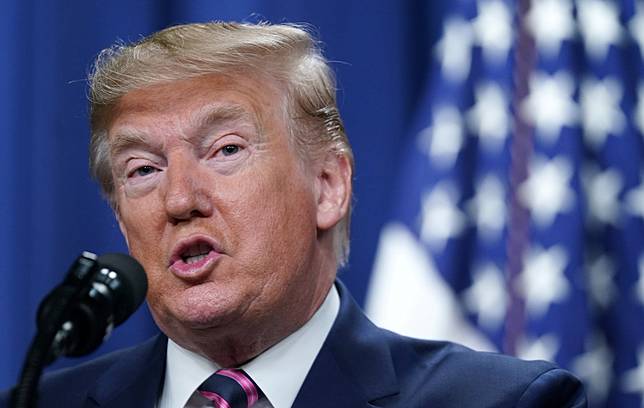 Reaching an interim trade deal could ease tensions between China and the United States for the time being but would not necessarily bolster relations in the long run, according to diplomatic observers.
A so-called phase one agreement may offer only initial relief as both countries' governments face uncertainties at home, the observers said, cautioning that some of the remaining points of dispute were likely to resurface in subsequent talks, along with the unpredictability of US President Donald Trump.
Although there were rallies and upbeat sentiments across global markets on Friday after US reports that consensus on an agreement had been reached, there was no official confirmation of a deal from either side. It was unclear, for example, what agricultural purchases Beijing and Washington might agree, observers said.
China's Ministry of Foreign Affairs fell short of confirming that an agreement had been reached on Friday, its spokeswoman saying only that China was committed to resolving trade disputes through dialogue and that any deal should be "mutually beneficial for both sides". The White House was reported to be making an announcement late on Friday.
Observers said an interim deal to alleviate the 18-month-long trade tensions would be welcome for both sides, giving China respite to stabilise its economy and Trump a chance to gain farmers' support for his presidential re-election campaign next year.
But Shi Yinhong, a Chinese government adviser and an international relations professor at Renmin University, said that any momentum in the talks should be regarded as "for the time being", with long-term confrontation continuing to dominate overall relations.
"It just pushes the difficulties into the future," he said. "And the future could be very quick to materialise, because Trump is a very volatile person."
According to US media on Thursday, Washington was set to cancel the new 15 per cent tariffs on US$160 billion worth of Chinese products that were due to take effect on Sunday, and remove some of the tariffs already imposed. In return, it was reported, China would buy US$50 billion of American products, mainly agricultural goods, next year.
"The first thing Trump cares about is China's purchase of US$50 billion of US products in 2020, but I seriously doubt whether China has enough market demand for that," Shi said.
"If China hesitates in committing to the specific amount or timetable of purchases, the Trump administration is very likely to impose the tariffs again."
Wang Yong, a professor of international relations at Peking University, said an interim trade deal could ease tensions but China should be prepared for Trump's changeability.
"For Beijing, what is important is to have time to adjust and to cement the confidence of foreign investors in China," Wang said.
"But we should bear in mind the complicated political situation in the US, and should be prepared for a new scenario if Trump flip-flops again."
A deal with China would add to the one struck this week by the White House with House Democrats on a new pact to replace the North American Free Trade Agreement.
However, failure to break the stalemate of the trade negotiations, which resumed in October, could provoke further tit-for-tat tariffs and worsen the already troubled US-China relations.
China's economy has suffered more than that of the US during the trade war. It continued to slow in the third quarter, with GDP growth of 6 per cent - the country's lowest since 1992.
The nation's top decision-makers said at this week's annual Central Economic Work Conference - a key event to set the tone for policy next year - that contingency plans were needed to offset increasing geopolitical risks and domestic economic pressure.
"China needs the deal more than anybody else," said Chen Long, a partner in Beijing with Plenum, an independent research agency based in Washington.
"It will be worth watching how the two sides set terms on details such as how much they plan to roll back tariffs - the proportion, timetable and indicators to warrant the rollbacks - and these could also risk for potential pushbacks in the future," he said.
Attempts to reach a deal came with China and the US at loggerheads over a range of issues. The US Congress has passed several pieces of legislation aimed at Hong Kong and Xinjiang that could pave the way for sanctions against officials assessed to have undermined human rights.
China vowed to retaliate against Washington following the passage of each of the laws, but appears not to have treated them as a factor in the trade negotiations.
A US-China deal, especially any purchase of US agricultural products, would be closely watched by European Union member states, which have long worried that it could come at a cost to them.
"We will definitely not sit aside," a European diplomatic source said this week.
The US has so far levied 25 per cent tariffs on about US$250 billion of Chinese products and 15 per cent on a further US$110 billion since last summer.
Furious after the collapse of trade talks in the summer, the Trump administration had planned to impose 15 per cent tariffs on US$160 billion of Chinese products on Sunday, including on consumer items such as toys, Christmas decorations and smartphones. China had said that it would not shy away from taking countermeasures.
Copyright (c) 2019. South China Morning Post Publishers Ltd. All rights reserved.