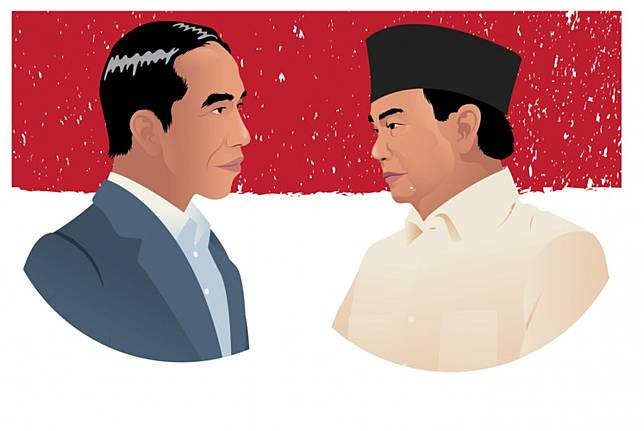 The swearing-in of President Joko "Jokowi" Widodo for his second five-year term along with his new deputy, Ma'ruf Amin, on Oct. 20 is less than one month ahead. But Indonesians are still divided between supporters of Jokowi and his former rival Prabowo Subianto.
Along with some other people, I sense attempts to foil Jokowi's second term. Thus, there may be temporary instability or chaos, but the show must go on because Jokowi has a strong and constitutional mandate from voters. However the President is likely to face eroding political capital for his lack of firmness.
The message of the song "I Love the Way You Lie" by Rihanna and Eminem apparently applies to Jokowi's die-hard supporters and adversaries. Like any shrewd politician, Jokowi has not always been forthcoming about his motives to his followers, while opposition leaders are often geniuses at covering up their real motives while agitating their followers. As Rihanna sings:
"Just gonna stand there and watch me burn/But that's alright, because I like the way it hurts/Just gonna stand there and hear me cry/But that's alright, because I love the way you lie/I love the way you lie."
Therefore, to one camp, Jokowi is responsible for all the problems of the Corruption Eradication Commission (KPK). And for forest fires! And for the Criminal Code (KUHP) bill! People in this camp tend to belittle the fact that despite its impressive track record, the KPK also has chronic ailments. The KPK should be open to reform; it is independent, but that does not mean it is untouchable.
Thousands of students in many cities have begun demonstrations to voice their opposition to many things, including what they believe to be the KPK's systematic extermination, the nearly secret deliberation of the KUHP bill and ravaging forest fires. This camp seems to comprise a mix of people, including many who voted for Jokowi.
Student rallies played a very important role in pressuring Soeharto to step down, although the economic collapse and allegedly massive corruption practices by his children and cronies were the key reasons for his fall. But today, I don't think the students' voices will be as powerful as 21 years ago, given a less clear-cut enemy than the New Order. Still, we can't ignore the aspirations of the country's young intellectuals.
To the other camp of his die-hard supporters, Jokowi can do no wrong. The President benefited from the solid support of people at the grass roots. However, there is an alarming tendency to turn him into a cult figure. Jokowi could become a dictator, and we might only realize it after it's too late.
Estrangement between the two camps may continue indefinitely with little sign of the gap narrowing, thanks to Jokowi's hesitation to reach out to his adversaries and "haters" with their uncompromising stance. The whole nation will have to pay the cost if we put aside attempts at reconciliation, politically and economically.
Jokowi can only blame himself for much of the problems because despite his convincing victory, the President tends to play it safe by accommodating his coalition parties. But his opponents only know how to attack the government and provide few clues on how to govern better.
We will once again see various groups playing up the revived myth of the threat of communism ahead of the commemoration of Sept. 30, 1965, when the alleged coup attempt by the dissolved and banned Indonesian Communist Party (PKI) took place.
Regardless of your nationality, you may find yourself in one of these two camps: pro-Jokowi or anti-Jokowi; Jokowi is always right or Jokowi is never right!
The opposing camps always stick to their principle of pokoke (come what may), no matter what and at any cost.
In particular, the pro-Prabowo camp apparently agrees with the theme of Nicole Kidman and Ewan McGregor's "Come What May":
"Seasons may change, winter to spring/But I love you until the end of time/Come what may/Come what may."
For Prabowo's die-hard supporters, there's nothing right about Jokowi. It seems they still cannot forgive him for defeating their icon in two presidential elections. The Constitutional Court ruling that confirmed Jokowi's victory for the second time in the presidential election means nothing to them.
"Jokowi cannot be sworn in on Oct. 20," said an old friend as I was enjoying coffee and a fried banana. Why? A long list of Jokowi's sins burst out of his mouth.
According to him, Jokowi has betrayed the Constitution. He masterminded the destruction of the KPK and somehow engineered the revision of the Criminal Code. He also intentionally let forest fires spread in provinces where he had lost to his rival Prabowo in the April election, my friend said.
Just like Prabowo's supporters during the Constitutional Court hearings, he offered next to no evidence. Again, pokoke, according to them, Prabowo should be president.
Both supporters of Jokowi and Prabowo may love the message of Eminem and Rihanna in "I Love the Way You Lie", but the rest of us are left confused in the middle.