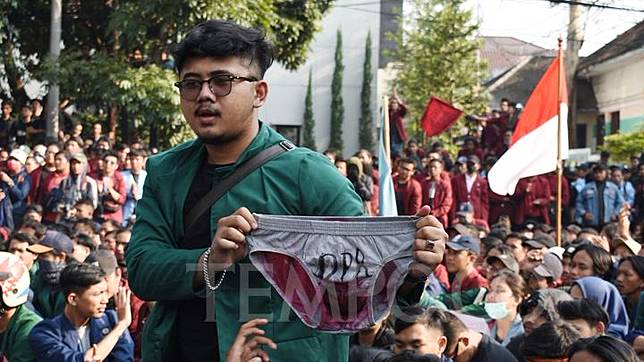 TEMPO.CO, Bandung - Thousands of students from numerous universities in Bandung staged a rally before the West Java Regional Legislative Council (DPRD) building on Jalan Diponegoro, Bandung, Monday, September 23. They rejected the amendment of the KPK Law and the ratification of the Criminal Code draft bill or RKUHP.
The protesters, donning their university jackets, started to flock the building area at 02:00 p.m. They hailed from Sunan Gunung Djati State Islamic University (UIN Bandung), Bandung Islamic University, Parahyangan Catholic University, Pasundan University (Unpas), Telkom University, and others.
The students held a long march from Monumen Perjuangan before gathering in front of the West Java DPRD building. Some of them assembled in front of Gedung Sate before joining others at the DPRD building.
Many students raised banners bearing their protests against the government's decisions they considered clipping the Corruption Eradication Commission's (KPK) wings. "Revolution, revolution, revolution," said an orator.
"We are a consolidation of Unpas secretariat (student council). The announcement is released at 11:00 p.m. last night but over 1,500 participants who care about our nation are present here," said Unpas student president Limas Kuswandi.
Limas said the students of West Java condemned the government's misconduct that considerably undermined the KPK through the amended law. "West Java students are suing the revised law and demanding cancellation of the RKUHP ratification," he said.
AMINUDDIN