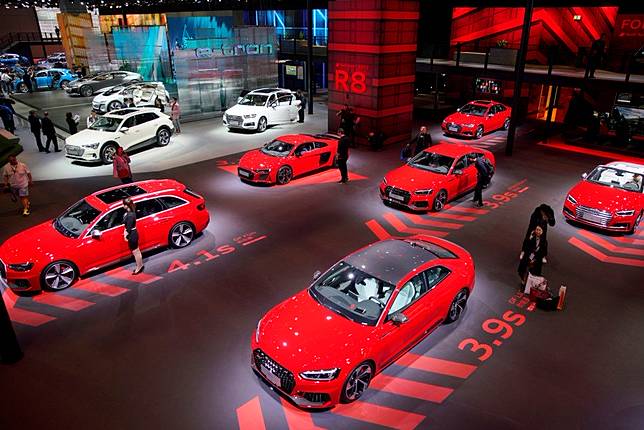 A decade after the global financial crisis, with the world's leading economies still addicted to the near-zero interest rates of the emergency response of quantitative easing, it seems the global economy remains on life support, with our experts still flummoxed about how to restore economic health.
Trade across the world is stalling. Most leading economies are reporting near-zero economic growth. Investment is in decline. Most expert organisations, including the International Monetary Fund, the UN Department of Economic and Social Affairs, the Organisation for Economic Cooperation and Development and the World Trade Organisation, are predicting worse to come.
And this takes no account of the "stupid stuff" that is gratuitously making matters worse - like Donald Trump's tariff war, Boris Johnson's Brexit and economic conflict between Japan and South Korea.
After fending off the threat of a massive recession a decade ago, our leaders seem to have retained an unsated urge to inflict self-harm as we teeter on the brink of a fresh recession. And after using so much of our monetary ammunition to fight off a recession in 2009 but still not putting risks to rest, there are worrying questions about where the resources can be found to fight off a new recession.
Government and corporate debt sits at record levels, with most central banks warning political leaders the monetary armoury is empty. They are calling for fiscal stimulus - like building infrastructure and cutting taxes - when most governments are staring at deep budget deficits and under pressure to cut, rather than increase, spending.
Martin Wolf threw light on this elephant in the room in the Financial Times last month: "The astonishing fact is that the six largest high-income economies, including now even Italy, can borrow for 30 years at a fixed nominal rate of close to 2 per cent, or less … One has to be desperately pessimistic about growth prospects to believe it is impossible to manage substantial borrowings, on such terms."
In short, our economic leaders are so gloomy about growth prospects for the next three decades that they are unwilling to borrow money even when that borrowing is virtually free. In the words of Harvard economics professor Lawrence Summers: "Governments that run chronic surpluses are failing to do their part to support the global economy and should be the object of international scrutiny."
It is a perverse irony that it is these same zero interest rates - the world now has over US$15 trillion worth of bonds in issue that pay negative interest rates - that have driven property and equity prices to record levels, severely aggravating inequality worldwide, and giving the false impression that all is economically well.
I am sure many of you are feeling that I am being unreasonably gloomy, but the data available to us points with terrible consistency in the direction of recession.
The WTO recently revised down to 1.2 per cent its global trade growth forecast this year. Its forecast in April was 2.6 per cent. In South Korea, exports fell for an 11th consecutive month in October, by a shocking 14.7 per cent, with electronics exports down 18 per cent and semiconductors down 32 per cent. In an economy where exports account for more than 40 per cent of gross domestic product, it is hard to imagine the impact of such a downturn.
Singapore reported non-oil exports down 8.1 per cent in September - the seventh consecutive monthly fall - with electronics exports down 25 per cent.
The European Commission reported on Thursday that economic growth in the EU will slow to 1.1 per cent in 2019 - the lowest since the sovereign debt crisis - and forecast that global growth "is set to fall this year to a pace usually associated with the brink of recession". "As the slowdown spreads, labour markets will lose steam. Wage growth may already have stopped increasing …"
At the heart of Europe's slowdown is the car sector, particularly in Germany, where growth is expected to slow to 1 per cent from a forecast 1.5 per cent. According to the IMF, global car production in 2018 fell 2.4 per cent. In the US, car production contracted 3.4 per cent in 2018, and a further 2 per cent in the first seven months of 2019, the UN Department of Economic and Social Affairs reported; in the EU, production fell by over 10 per cent in the first half of 2019.
And at the heart of this production crash is an 11.4 per cent collapse in demand for cars in China in the year to July. This fall in the world's largest car market has inevitably had global impact, but new car registrations are also down in Australia, Canada, India, the United States and Europe, according to the UN department. No wonder the EU is anxious about the US' November 13 deadline for slapping 25 per cent tariffs on auto imports.
China has also reported a sharp contraction in trade, with imports falling for the sixth consecutive month to 6.4 per cent in October. As it sits at the heart of so many global supply chains, this contraction is being felt across the world, and in particular across Asian economies like Japan, South Korea and Taiwan. According to an FT analysis of IMF data, around 100 countries saw the value of their exports fall in the first half of 2019.
Spluttering growth in China - aggravated as much by efforts to reform its domestic economy as by the US-China tariff conflict, which is likely to lumber on into 2020 despite talk of a partial deal - is important to the world not just because of China's global importance as a buyer and supplier of goods, but also because of anxieties that it is not well placed today to provide the globally-important stimulus it did after the 2008 crash.
China's 2008-9 stimulus amounted to an estimated 19 per cent of GDP, whereas its measures over the past two years amount to a more modest 7 per cent, according to the FT.
If we are on the brink of a new recession, and even China is not on hand to provide fiscal stimulus, then how dangerously ill-equipped are we? As Summers argued, the danger is not so much a global economic slowdown as the difficulty of doing much in response.
David Dodwell researches and writes about global, regional and Hong Kong challenges from a Hong Kong point of view
Copyright (c) 2019. South China Morning Post Publishers Ltd. All rights reserved.