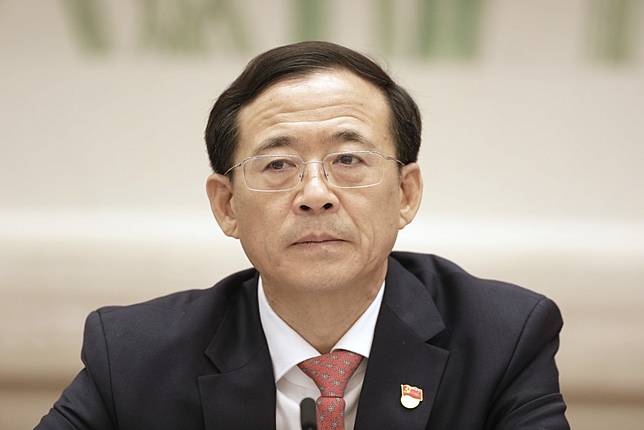 Before falling under the cloud of a corruption investigation in May, Liu Shiyu, China's former top securities regulator, was a regular newsmaker.
During his three years at the helm of the securities regulator from 2016 to 2018, Liu made national headlines by pursuing what he called the "barbarians, demons, evil creatures or financial crocodiles" in the stock market.
He made national headlines again earlier this month when after five months of silence, the country's top anti-corruption watchdog wrapped up its investigation, letting him off without criminal charges and with very light punishment.
Unlike other senior officials caught up in President Xi Jinping's far-reaching crackdown on corruption, Liu, 58, will not face trial and not lose his party membership.
It's an exception that might not be convincing to the public, observers said.
In a statement by the National Supervisory Commission (NSC), the anti-corruption super body, investigators said Liu was guilty of receiving gifts and money in return for favourable decisions during his work.
His "wrongdoings" amounted to "a serious violation of duty-related laws" but because he cooperated with the investigation by surrendering to authorities and confessing to his violations, he was shown leniency, the statement said.
His punishment was to lose his job as deputy party chief of the All-China Federation of Supply and Marketing Cooperatives, a soviet-era holdover of China's centrally planned economy which coordinates the production and distribution of various agricultural products.
Liu stepped down from the chairmanship of the China Securities Regulatory Commission in January to take up the much lower-ranking position at the federation in January.
The statement stopped short of saying Liu had violated criminal law, meaning he would not face jail time.
And while most officials accused of corruption have faced criminal charges and been stripped of their membership of the Communist Party, Liu was let go with only a two-year probation within the party, allowing him to retain his membership.
The handling of Liu's case was also unusual in that the punishment was first approved by the policymaking Politburo, an arrangement that was not publicly disclosed in similar investigations of ministerial-level officials.
In addition, according to the statement, at least some of Liu's wrongdoings occurred after the party congress in 2012 when Xi launched the national crackdown and members had been warned to mend their ways.
But in public, Liu was appearing to toe the party line - sometimes to lengths that were surprising even by the standards of Chinese officials.
In 2017, Liu, a career banker and financial regulator, said the public companies with the best financial results were those that prioritised party-building.
"Those who messed up their companies are usually those who don't pay much attention to party-building," he said.
His remarks came amid a controversial push by Beijing to required the establishment of party cells in private firms.
Later that year, he also lauded Xi for "saving the party" by rounding up a handful of senior officials who tried to "seize power and topple" it.
Wuhan University law professor Qin Qianhong said that because the anti-graft body had disclosed little information about Liu's case, it was impossible to know how serious his corruption was.
"We don't know the amount of money or the value of the gifts he received, and we cannot determine if he violated criminal law," Qin said. "The public also has no means to figure out if the official statement's language is factual."
If the statement were accurate, under existing law the anti-corruption watchdog did have the power to close the case without laying charges, Qin said.
But letting Liu off without charges "would be against the rule of law and fall short of the public's expectation if he had actually taken large sums of money and violated criminal law", he said.
James Zimmerman, a partner in the Beijing office of international law firm Perkins Coie and former chair of American Chamber of Commerce in China, said Liu's case could send a wrong message to financial markets and the business community.
"It not only promotes the use of confessions for leniency, but is indicative that obsequious kowtowing to the political leadership can be advantageous," Zimmerman said.
"The decision in this case reflects a further erosion of the rule of law, where justice should be meted out in a fair and impartial manner, regardless of wealth, power, or political affiliation."
Other senior officials who turned themselves in over the past two years did not fare as well as Liu. Qin Guangrong, the former party chief of Yunnan province who also turned himself in in May, was expelled from the party last month and will face trial on corruption charges.
And Ai Wenli, a former deputy chairman of Hebei's provincial political advisory body, who turned himself in in July last year, and was sentenced to eight years in prison in April.
But the official statements on the Qin Guangrong and Ai cases were more sternly worded than Liu's, saying were suspected of "serious violations of criminal law" - a phrase that could mean they took large bribes.
Zhuang Deshui, deputy director of Peking University's Clean Government Centre, said the statement about Liu stopped short of suggesting he had violated criminal law, which would require jail time.
He said the party could use Liu's case to encourage corrupt officials to turn themselves in and cooperate.
"This is both surprising and not," he said. "(The anti-corruption watchdog) has tried not to jail all problematic officials, depending on the nature of their cases and the extent to which they cooperate.
"It could help set an example of confession in exchange for leniency."
Copyright (c) 2019. South China Morning Post Publishers Ltd. All rights reserved.