Shuli Ren, in a Bloomberg article titled "Losing the Hong Kong that I love", said she has "grown alarmed and disillusioned by the anti-Chinese rhetoric some locals have taken up as they battle for greater democratic freedoms. Many of us moved here precisely so we could enjoy similar liberties."
But there is another side to this story. I, too, feel like I am losing the Hong Kong I love, as do other Western expatriates who moved here to observe the spectacular rise of China - a country that has dragged millions of people out of poverty.
I arrived in Hong Kong in 2003 to help cover the deadly epidemic of severe acute respiratory syndrome. But I soon became immersed in China's economic story, fascinated by how a nation of a billion people was gradually opening up and becoming a new global growth driver - with Hong Kong as its window on the world.
Hong Kong lived up to its reputation as Asia's world city - a unique blend of Eastern and Western culture. I could also sense that, while most Hongkongers were glad to be sheared of the colonial era, many retained an affinity for all things British - even the road signs remained the same.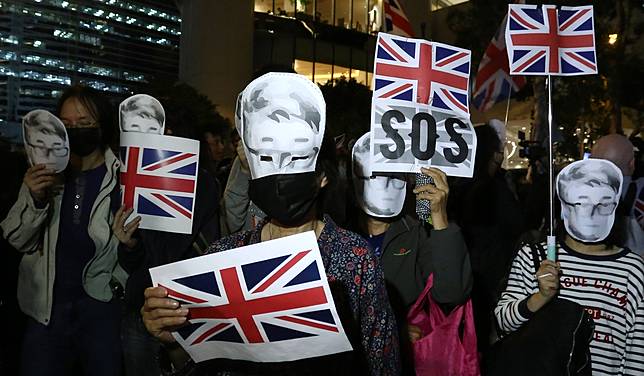 Hong Kong's greatest advantage, though - apart from its geographical location - was that society was governed by the rule of law with an independent judiciary.
I was immediately impressed by the civility of Hongkongers and the city's immaculate infrastructure - an MTR system where subway trains were spotlessly clean and punctual and a sleek airport which was the envy of the world. It was a big change from the London I had left behind.
I was aware that many expats had fled Hong Kong in 1997 after the handover, scared China would send the People's Liberation Army out at the first sign of dissent. That was not the case, and Hong Kong prospered despite underlying tensions.
The first signs of real trouble emerged in 2014, during the Occupy movement against Beijing's stringent ruling on electoral reform, seen by many as an attempt to ensure that any chief executive-elect must be obedient to the central government.
I remember the long delays to my daily commute and people camped out in tents on major city roads. I also remember seeing riot police on the streets for the first time, and the use of tear gas. But I also remember thinking this was not my fight and the average Hongkonger had benefited from China's economic ascent.
Rightly or wrongly, I also remember thinking that the people bickering were "all Chinese", to use the phrase of a mainland JP Morgan banker who was punched in the face recently in Hong Kong. Identity is about more than ethnicity - it reflects your education, upbringing and general outlook on life - among other factors.
But the recent outcry over the now-withdrawn extradition bill has brought the divisions within Hong Kong society to an entirely new level - and forced many expatriates off the fence. Chief Executive Carrie Lam Cheng Yuet-ngor's stubborn refusal to listen to opponents and to press ahead with contentious legislation has undermined people's belief that the government is working for them.
Worse still, blatant examples of unprofessional police conduct by some officers - such as the beating of protesters after arrest, the pepper-spraying of journalists and refusal to wear identification tags in many instances - has further undermined trust in the authorities, whose silence on these issues has been deafening.
On the mainland, we all know that media freedoms are curtailed and vocal criticism of ruling Communist Party leaders is forbidden. And despite the party's attempts to transform China, many legal experts have criticised the lack of judicial independence and division of legal power.
But more than that, it is the authoritarian drumbeat and Beijing's increased interference in Hong Kong's high degree of autonomy and the rights and freedoms guaranteed under the legally binding Sino-British Joint Declaration of 1984 that is causing most alarm.
Some experts point out that China is a relatively new power on the world stage, unaccustomed to wielding soft influence. But the current authoritarian approach is at extreme variance with liberal-educated Hong Kong residents who spent most of their childhood history lessons learning about the dangers of authoritarian regimes, which threw opponents in jail and precipitated global wars.
The Hong Kong I love values liberty and freedom of expression. These are ideas inspired by European Enlightenment thinkers of the 18th century, not the Leninist rhetoric of the early 20th century.
Thankfully, most Hongkongers are citizens of the world and fighting for their rights, and that is why I and many others are supporting their efforts to avoid an Orwellian future.
Gareth Nicholson has been a resident of Hong Kong for over 16 years and is a Post editor
Copyright (c) 2019. South China Morning Post Publishers Ltd. All rights reserved.