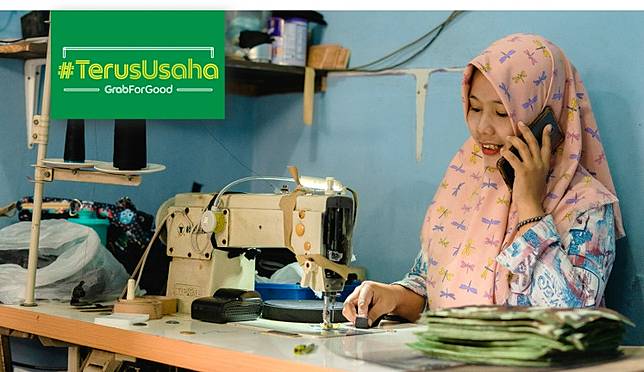 Spending more time at home to comply with current social restrictions, we are likely to become more dependent on delivery services. Having our food and groceries delivered to our doorsteps is safe as well as convenient. But even more than that, when we use delivery services we also help MSMEs and gig workers earn an income at a difficult time.
As much as MSMEs and gig workers are highly affected by the negative impacts of the pandemic, many of those who have lost jobs have started their own MSMEs or become gig workers in order to secure their finances. These are the people who keep on going, or #TerusUsaha, as the ride-hailing app Grab put it in its latest campaign.
President of Grab Indonesia Ridzki Kramadibrata said at the launch of digitization program of millions of MSMEs on Tuesday that #TerusUsaha was part of a GrabForGood commitment that aimed to provide MSMEs with access to technology, skills improvement and digital service platforms.
"This [#TerusUsaha] program was created to support #BanggaBuatanIndonesia (Proud of Indonesian-made) program launched by President Joko "Jokowi" Widodo, and we hope to be able to help small businesses to navigate the new era with the spirit of gotong royong (mutual cooperation)," said Rizki.
#TerusUsaha synthesizes more than 24 initiatives that Grab had launched during the time of the ongoing health crisis, in which it improves many platforms to help its partners thrive. It follows the recently launched GrabMerchant, which helps small businesses undergo the much-needed digital transformation.
Coordinating Economic Minister Airlangga Hartarto, who spoke at the launch event, said that digital transformation had become much more important than before for MSMEs to face the new era after the pandemic, and that cooperation between the public and private sectors had also grown increasingly essential.
"Grab has become an important partner for the government during the pandemic, and I am pleased with the #TerusUsaha initiative that was launched today to help MSMEs prepare for the new era," said Airlangga.
Read also: Grab contributes Rp 77.4 trillion to Indonesian economy: Research
Under #TerusUsaha, Grab is to launch new initiatives within the next six months that will provide its partners with these:
1.     Improved visibility and demand
Grab is to provide free advertisements for tens of thousands of merchant partners at the app's main interface to improve their online visibility. It will also give the merchants space to advertise in Grab's social media and digital channels, as well as with social media influencers who collaborate with Grab. Meanwhile, Grab users will be immediately directed to a transaction page when they click an ad. All costs for expenses and human resources needed for the placement of these ads will be covered by Grab.
2.     Skill and growth enhancement for small businesses
MSMEs will be provided with a range of training and skill improvement programs, such as Grab Akselerator UMKM (Grab MSMEs Accelerator) in which Grab partners with non-profit organization Sahabat UMKM will provide two-and-a-half-month acceleration programs for selected small business owners. The program will focus on these topics below:
-       Business assessment, covering subjects from legal matters, marketing, financial literacy to product competitiveness.
-       Product review, in which participants can have a session with experts who will rate their products and business plans.
-       Consultation, which is a session for discussion on market expansion, resource management, capital and business aid.
Training will be given by co-founder of Anomali Coffee Irvan Helmi, owner of Kebab Baba Rafi Hendy Setiono, and branding expert from CEO LAB.id Garniasih, as well as mentors from the Law and Human Rights Ministry's Intellectual Property Directorate General (DJKI), the Finance Ministry and university lecturers.
The training program will start in early August, and MSME owners who are interested in joining will able to register through the GrabForGood microsite starting from July 20.
Apart from Grab Akselerator UMKM, the GrabForGood microsite, grabforgood.id is also accessible for millions of MSMEs to find tips related to business development, inspiring stories from successful small businesses and ways to join Grab's digital ecosystem.
3.     Opportunities to earn new income for those in need
For people who lost their jobs because of the pandemic, Grab offers the chance to become GrabKios individual agents. Through GrabKios, merchant partners will be able to sell financial and digital services including money transfers, micro insurance purchases, bill payments and phone credit purchases using the GrabKios app.
Apart from enabling people to earn extra income, GrabKios also helps 170 million Indonesians with limited or no access to banking.
Those who are interested in running a virtual [GrabKios] store need only to download the GrabKios app, register and wait 24 hours for verification before they can start selling.
Research conducted by the Centre for Strategic and International Studies (CSIS) and Tenggara Strategics in January found that the gig economy supported by Grab had shown an impact on Indonesia's economic resilience.
Grab partners surveyed in 12 cities stated that not only did Grab offer job opportunities for informal workers (who make up 56.5 percent of the total workforce in Indonesia), it also stimulated the growth of small businesses and created work opportunities outside the Grab platform.
GrabFood and GrabKios merchant partners, after joining Grab, reported 35 percent and 17 percent growth in sales, respectively, and 12 percent of GrabFood merchants said they were inspired to start their businesses because of GrabFood.
"The future is unpredictable, but Indonesian people are capable of overcoming challenges and staying resilient. In line with Grab for Good missions, we hope to help MSMEs thrive and keep lighting the spirit of #TerusUsaha in them," said Ridzki.