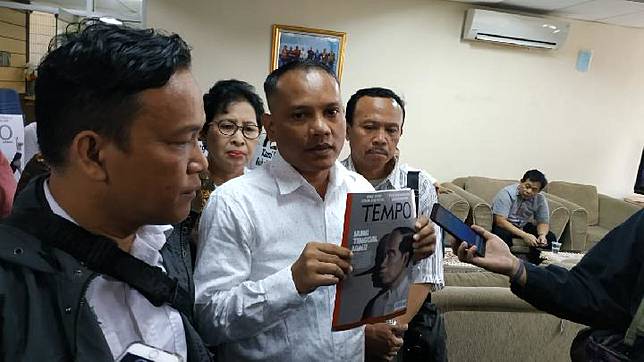 TEMPO.CO, Jakarta - A volunteer group in support of the president dubbed the Jokowi Mania Volunteers has consulted the Press Council on Tempo Magazine's cover illustration depicting President Jokowi beside his silhouette resembling the long-nosed Pinocchio.
The volunteers argued that the depiction of the president and Pinocchio was intent on framing the president as a liar.
The group's head, Joman Immanuel Ebenezer, also made an issue on the contents of Tempo Magazine, which he said seemed to picture as if the president failed to side with the country's efforts to combat corruption but rather was intent on clipping the KPK's wings.
The group then demanded Tempo, as the publisher, retract all of the copies of the September 16-22 edition from the market and issue a public apology and publish a public clarification.
In response to the backlash Tempo received from this edition, Tempo Magazine's Executive Editor Setri Yasra maintained that the magazine did not portray President Joko Widodo as Pinocchio.
"Tempo never meant to insult the president [as we are being accused of]," said Setri, who maintained that Pinocchio was only depicted as a shadow in the cover.
The Tempo Magazine executive editor maintained that the cover was a representation of the current dynamics among members of the public regarding the KPK Law revisions.
FRISKI RIANA