Taylor Swift delivered the latest hits from her album "Lover" to screaming fans in China, making the headline act in the countdown to this year's November 11 shopping extravaganza.
The Grammy Award-winning singer sang three songs at the Mercedes-Benz Arena in Shanghai on November 10 in the curtain-raiser to the so-called Singles' Day annual event, the nation's biggest e-commerce shopping spree on platforms run by Alibaba Group Holding.
In her signature matte red lipstick and winged eyeliner, the pop star kicked off the show with the upbeat single Me!, dancing in metallic high heel boots and silver bedazzled belted jacket. Playing on a feather-decked piano, she next sang the title song Lover - a romantic ballad that sold a million copies in mainland China within the first week of its release in August.
Swift, the world's highest paid celebrity, finished the show with You Need to Calm Down as the 71,000 capacity crowd screamed for Mei Mei, her Chinese nickname. Her fans screamed for her throughout the 30-minute performance, and long after she had departed the stage at midnight. Later, she posted a photo of herself lying on a couch in her performance outfit on Instagram, captioned "If it don't fits, I still sits."
A post shared by Taylor Swift (@taylorswift) on Nov 10, 2019 at 9:46am PST
The showpiece in Shanghai also featured a host of top celebrities. They included piano virtuoso Lang Lang, Japanese voice actress Kana Hanazawa, and Hong Kong pop singer G.E.M. Jackson Yee of China's top boy band TFBoys, who has 80 million followers on Twitter-like Weibo, also joined the line-up.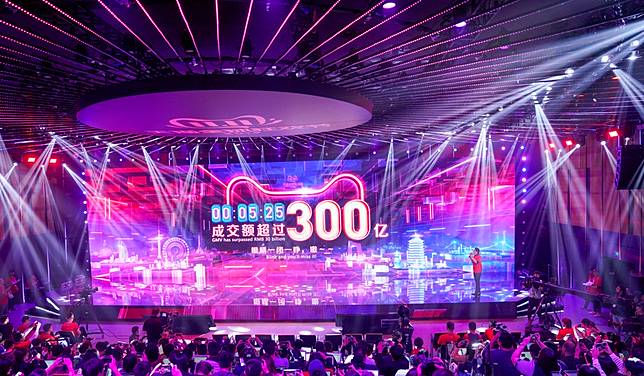 This year, some consumers are planning to give it a miss. More than five months of anti-government protests has ravaged the Hong Kong economy, and some people have called for a boycott of mainland Chinese businesses.
Notwithstanding that, the online cash registers have rang up US$31.25 billion worth of transactions in the 16.5 hours, surpassing the US$30.8 billion annual tally in 2018. While Alibaba's Tmall and Taobao e-commerce marketplaces are the traditionally mainstays, this year's edition will be expanded to include business-to-business platforms like AliExpress and its Southeast Asian site known as Lazada to capture regional consumers.
Alibaba is Asia's biggest company by market value and the owner of The South China Morning Post.
Copyright (c) 2019. South China Morning Post Publishers Ltd. All rights reserved.