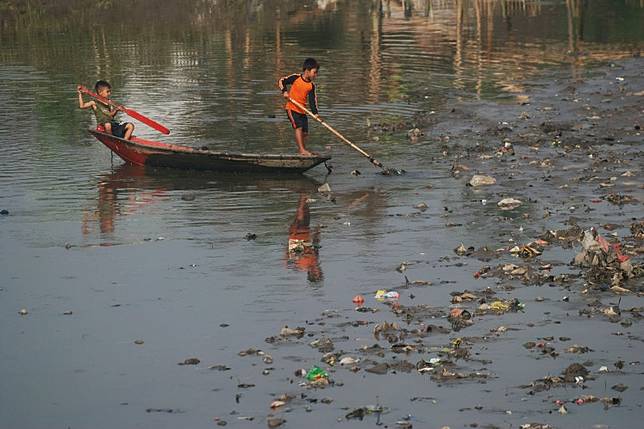 A task force in charge of cleaning up the Citarum River has started investigating the cause of the black and foul-smelling water in a section of West Java's longest – and dirtiest – river.
The team had inspected the river starting from sector 16, said Maj. Gen. Dedi Kusnadi Thamim, the head of the Citarum Harum task force.
Dedi said the river's water condition was still normal from Walahar to Klari in Karawang regency.
"We've done digging near the river. The water turns black and smelly from Klari downstream," Dedi said as quoted by kompas.com on Tuesday.
According to reports, the water in the Citarum River in the Karawang area has been black and emitting a strong odor since Friday. Fish in the river have reportedly died due to the pollution.
Theories put forward to explain the phenomenon include the possibility that river sedimentation that had built up over the years has begun to come up to the surface as the water flow rate decreased. Some people suspect new domestic or industrial waste polluting the water.
The task force has cooperated with the Karawang Environmental Agency to take water samples at four different locations for laboratory tests.
Authorities have also requested help from tap water company Perum Jasa Tirta II in supplying water to the Citarum River. However, Dedi said the dam gate in Walahar could only be opened for 15 minutes, since it might disrupt water supply to farming areas. 
"This is only our first effort. We will keep monitoring it," Dedi said, adding that law enforcement members of the task force would also participate in monitoring the industrial area.
Stretching 270 kilometers, the Citarum River supplies water to households and industries in West Java and Jakarta. It is also the source of power for three hydroelectric plants that can generate a combined 1,400 megawatts of electricity.
The river, however, earned the status of one of the world's 10 most polluted places in 2013 for its alarming levels of toxic chemicals due to domestic and industrial waste being dumped into it for a long time.
The government has since set up an ambitious clean-up program involving the military under the Citarum Harum program, which has been hailed as a pilot project for river restoration. (dpk)