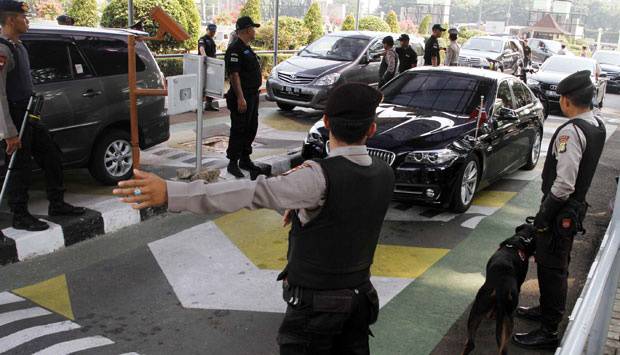 TEMPO.CO, Jakarta - Tangerang Resort Police implement a high alert status (Siaga I) operation since Friday ahead of the presidential and vice-presidential inauguration on October 20.
The operation will take into effect until Monday, October 21. Some 800 police officers and joint personnel are deployed to train stations and toll gates in the Jakarta's satellite city.
Acting chief of Tangerang Police Adj. Sr. Comsr. Komarudin says that the deployment of the personnel is part of the security operation.
The troops are posted to several locations, namely Daru Station, Tigaraksa Station, and Cikuya Station, as well as Balaraja Barat toll gate, Balaraja Timur toll gate, Kedaton toll gate, and Cikupa toll gate.
"Besides those locations, we also secure border areas," Komarudin said on Saturday, Oct. 19.
He says that during the inauguration day, the Jokowi-Ma'ruf supporters will head to Jakarta to enliven the event. "We're anticipating the potential of security disruption before, during, and after the inauguration."
Komarudin hopes that the inauguration of President Joko Widodo and Vice President Ma'ruf Amin will run safely and soundly. "We call on of the society to maintain the security in order to success the national leadership," he remarked.
Bekasi Police Chief Sr. Comsr. Candra Sukma Kumara said on Saturday, October 19, that he has yet to receive reports of a mass movement to Jakarta, adding that his institution will escort the people aiming to attend the presidential inauguration until they reached the location.
AYU CIPTA | ADI WARSONO