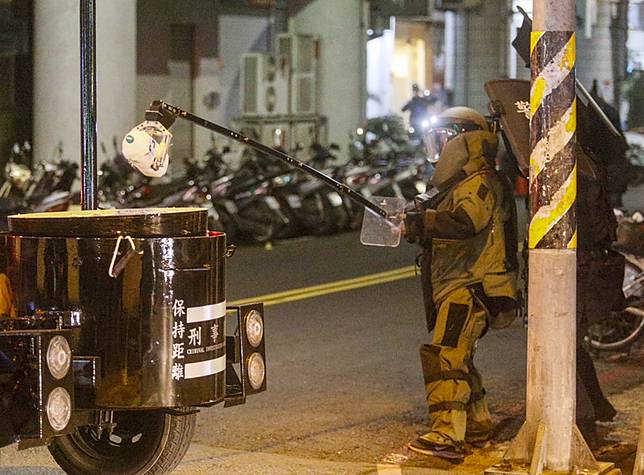 Taiwanese president Tsai Ing-wen has called for calm after police shot and detained a man suspected of planting an explosive device outside a campaign office for the main opposition party.
Tsai, who is seeking re-election in next month's contest, urged people to "stay calm and rational" in the final days of the campaign, according to the Central News Agency.
"As a member of a democratic nation … we should join efforts to maintain the stability of the society," she said.
The president was speaking after the suspect was detained following a near 13-hour stand-off with police in Kaohsiung, a city on the south of the island.
The man - identified by his surname Wu - was suspected of planting a device containing wires, liquid and powder outside a Kuomintang office in the neighbouring city of Tainan.
When police tracked him down to a rented flat on Friday night he refused to surrender and threatened to ignite explosives, Central News reported.
Police eventually stormed the premises on Saturday morning, firing more than 100 rounds of ammunition and tear gas before overpowering Wu.
He was shot in the arm and hip and police said he was in a stable condition in hospital.
Chou Yew-woei, the commissioner of Tainan city police, told local media that police had seized an estimated 1.2kg (2.6lb) of a powerful explosive called TATP and a suspected toy gun.
Police also discovered some components that could be used to make an explosive device in a car believed to have been hired by Wu, Chou added.
His motives remain unclear, but police said that preliminary investigations suggest the device had been made following instructions downloaded from the internet, but had not exploded as planned.
Hung Yu-chien, a KMT spokesman, urged Tsai's government to ensure a safe election environment.
In a poll released by the TVBS television network last week, Tsai, from the independence-leaning Democratic Progressive Party, was leading with 46 per cent, while the mainland-friendly KMT's candidate, Kaohsiung mayor Han Kuo-yu, was on 31 per cent.
The upcoming presidential election comes at a time when the island is increasingly becoming a flashpoint in the rivalry between the US and China.
Beijing, which sees Taiwan as a wayward province that must be returned to the mainland's fold - by force if necessary - has stepped up efforts to try to intimidate Taiwan militarily and isolate the island internationally in a bid to discourage voters from re-electing Tsai.
Copyright (c) 2019. South China Morning Post Publishers Ltd. All rights reserved.