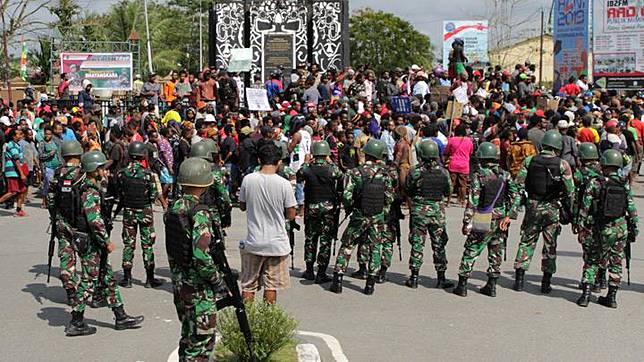 TEMPO.CO, Jakarta - Brawijaya Commander Major General R. Wisnoe Prasetja Boedi is yet able to confirm whether the two people allegedly spewing racist smears to a group of Papuan university students in Surabaya were indeed members of the Indonesian Armed Forces (TNI).
"I am yet able to confirm it. But it seems they were indeed wearing military attributes. I just arrived from Batu Raja, I will study the case in-depth later," said Wisnoe in a meeting with the East Javan students' organization association in Surabaya, East Java, on Wednesday, August 21.
The alleged racist smears against the Papuan university students were mostly highlighted after it was heard in a video recording that immediately went viral after the Surabaya incident.
The Commander maintains that the incident will be investigated internally by the Indonesian Armed Forces and to also determine whether the military attributes were worn by a non-military member.
Wisnoe also promised to publically announce the results of the investigation regarding the siege on the dormitory of Papuan university students. "We will hand out harsh sanctions if it is proven to violate the procedure."
ANTARA