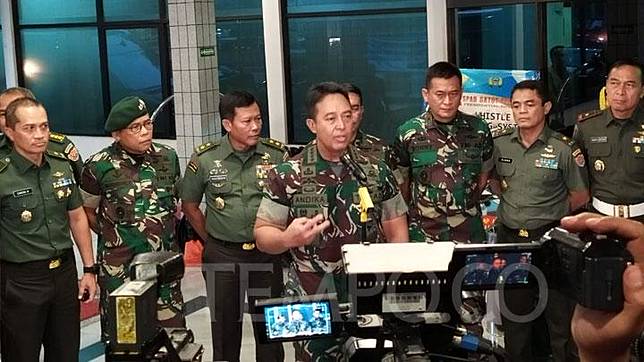 TEMPO.CO, Jakarta - Throughout the weekend, Indonesian media were abuzz with reports about three TNI officers who were discharged from their current positions because of what their wives posted to social media. The officers' wives made improper comments about the stabbing of Coordinating Minister for Political, Legal and Security Affairs, Wiranto.
The three TNI officers also have to be detained in prison for 14 days as punishment for their wives' social media posts that are deemed inappropriate to be said by army wives.
Defense Minister Ryamizard Ryacudu said that what happened was the risk of military profession.
"The officers could not control their spouses' [behavior]. [TNI] wives should be given all kinds of advises," Ryamizard said in Jakarta, Monday, October 14.
The TNI Army had removed Hendi Suhendi from his rank as commander of 147 Kendari, Southeast Sulawesi Tenggara. He had only been in the position for 55 days.
The TNI Air Force also removed First Lieutenant YNS, member of the the Air Force Military Police Unit (Satpomau) of Surabaya Muljono Air Field.
Ryamizard said that the sanctions given were in accordance with military rules. The three TNI members, he said, had had violated the code of ethics regulated in the army discipline law.
The three TNI officers also have to be detained in prison for 14 days. They received the punishment because their wives posted comments about the stabbing of Wiranto; comments deemed inappropriate to be spouted by army wives.
Meanwhile, Chief of Staff of the TNI Army Kasad, Gen. Andika Perkasa, said that the wives' comments are a violation of Law No. 25/2014 on Military Discipline Law.
The TNI spouses could also face charges of violating Law No.19/2016 on Information and Electronic Transactions, known as the ITE Act.
TEMPO.CO