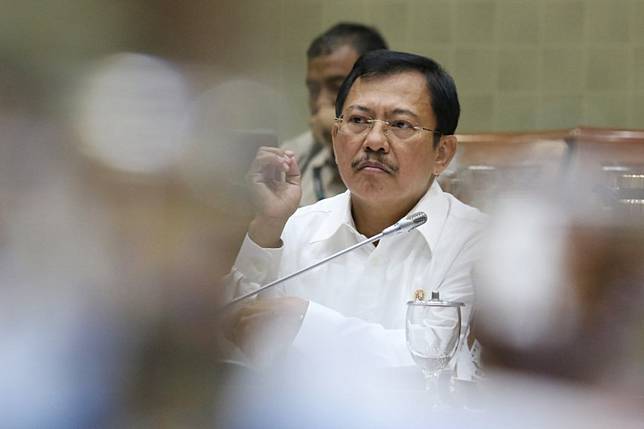 A suspected COVID-19 patient who died in Semarang, Central Java, on Sunday tested positive for the H1N1 virus, which is a known cause for swine flu, according to Health Minister Terawan Agus Putranto.
"It was not COVID-19; we only found H1N1, which is a typical flu. It was verified twice through polymerase chain reaction [PCR] testing. [The patient] tested negative for the Wuhan coronavirus both times," he said in Jakarta on Thursday as quoted by kompas.com.
"The medication for H1N1 is widely available. It's called ometamisir; the Health Ministry has an entire supply of it."
Fathur Nur Kholis, a doctor from Kariadi Central General Hospital in Semarang where the COVID-19 suspect had been treated, said the patient had succumbed to bronchopneumonia, a disease that gradually damages the lungs.
Read also: [UPDATED] Death of isolation patient 'not COVID-19', says Indonesian hospital
Responding to questions as to why the patient had exhibited symptoms resembling those of COVID-19, Terawan said the viruses were similar. Therefore, the patient's body was treated in accordance with the established protocol to contain H1N1, he said.
The suspect was wrapped in plastic before being cremated, which raised concerns over whether the death was indeed caused by COVID-19.
Agoes Oerip Poerwoko, the hospital's medical and treatment director, previously said the method of the patient's burial was in accordance with coronavirus containment procedures.
"Those in charge of the burial wore protective gear, including masks […] in accordance with the procedure. The path to the morgue was cordoned off. The body itself was wrapped in plastic to prevent visiting family members from being infected by the virus," Agoes said on Wednesday.
The COVID-19 outbreak, caused by the 2019 novel coronavirus, came roughly 11 years after the global swine flu outbreak, which infected more than 390,000 people in Asia alone and took as many as 200,000 lives worldwide. (rfa)