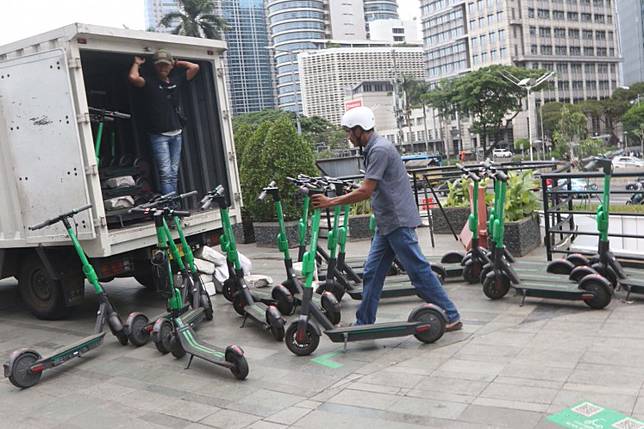 The Jakarta Police have detained DH, the suspected driver of a Toyota Camry that hit and killed two young adults riding a GrabWheels electric scooter outside the Gelora Bung Karno (GBK) sports complex in Central Jakarta on Nov. 11.
DH was taken into custody after the public raised suspicions about the police's choice not to detain the driver, despite having named him a suspect on Nov. 13. DH is thought to be the son of a high-ranking official.
Jakarta Police chief Insp. Gen. Gatot Eddy Pramono said the police detained DH after holding a case review on Monday morning. 
"After naming him a suspect, investigators told me that the perpetrator had been detained," Gatot said on Monday, as quoted by Antara news agency.
He added that the police charged the suspect with violating Article 311 of the 2009 Traffic and Land Transportation Law regarding reckless driving, with a maximum punishment of five years in prison.
Read also: Jakarta bans e-scooters from sidewalks, footbridges, roads following fatal accident
DH allegedly hit and killed two young adults, identified as 18-year-olds Wisnu and Ammar who, together with four friends, rented three electric scooters near FX Sudirman mall early in the morning on Nov. 11.
Some of the four friends – Fajar Wicaksono, Bagus, Wulan and Wanda – sustained injuries in the accident.
Fajar said they were riding on the side of the street near Gate 3 of GBK when a Toyota Camry came speeding from behind and hit the six friends.
They found Ammar and Wisnu unconscious and took them to a nearby hospital. Ammar suffered head and spinal injuries, and Wisnu sustained head and back injuries. The two were later pronounced dead.
A urine test showed that DH had consumed alcohol and the preliminary investigation suggested he might have lost concentration before the accident. Despite the test results, the police initially decided not to detain him because the investigators found he did not destroy evidence or run away. 
Suspicions arose that DH was the son of a high-ranking official after the suspect's mother came with an assistant to the hospital where Ammar was treated before he died. The suspect's family insisted on paying for the hospital fees, Rudy Yohanes, Ammar's father, said.
Police would not reveal DH's family background. They claimed it did not influence their decision not to detain him, even though he had been named a suspect. (kuk)