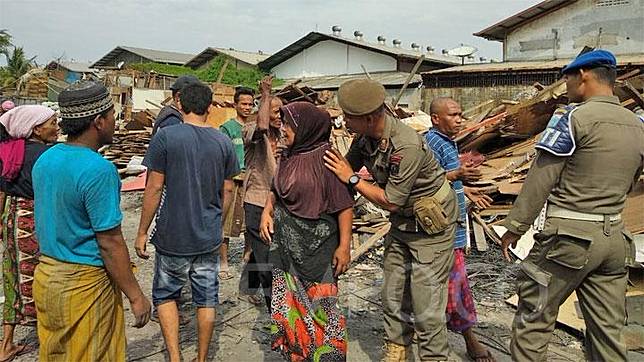 TEMPO.CO, Jakarta -Subaidah (40) is one of the settlers in an area in Sunter, North Jakarta, that was evicted from her home. She claims to remember clearly the promise made by Anies Baswedan and Sandiaga Uno - who was running for the 2017 Gubernatorial Election - who asserted that there will be no more evictions in Jakarta.
Now all that is left of her river-bank makeshift-house has turned to rubble in Jalan Agung Perkasa 8, Sunter, Tanjung Priok, North Jakarta, after city authorities commenced an eviction on Thursday, November 14.
"Pak Anies promised that there would be no more evictions, but that promise turned out to be a lie," said Subaidah to Tempo at the location of the eviction on Monday, November 18.
She first came to Jakarta from Madura, East Java, in 1988 and says that she owns a Jakarta residential ID card (KTP) and cast her vote in the 2017 gubernatorial election.
"There are no community units (RT) and neighborhood units (RW) here since this place is a warehouse area. So we made a family identification certificate at Papanggo. All of us here backed Pak Anies, but turns out his promises are all false," Subaidah vented.
Meanwhile, in a separate location, Gerindra Party chairman Muhammad Taufik says that Governor Anies Baswedan had never promised such a thing. "No. [He] never promised to not conduct evictions."
Taufik says that it depends on the location and explains that it was done over a state-owned land which is also meant to revamp the location that was initially meant as one of the city's water channels but was occupied by the current settlers who covered the channel to make way for their warehouse businesses 20 years ago.
LANI DIANA WIJAYA